off topic: Look who was enjoying the sunshine - NRAS
NRAS
31,145 members • 37,687 posts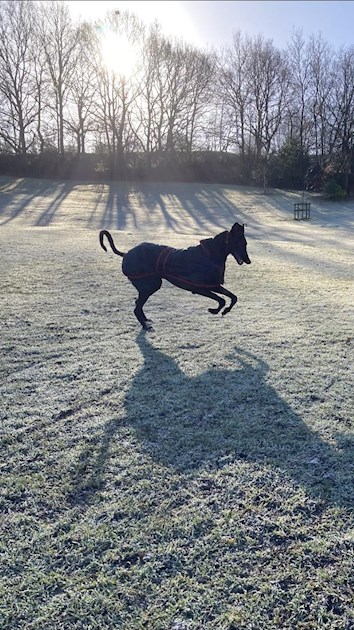 Look who was enjoying the sunshine
I thought it was a horse to start with darling.xxx
😂😂so did a few other dog walkers.. your not on your own xx
What's his or her name? Xx
Darcy she's very elegant
Lovely name! She's beautiful and looks like such a character. My Hector is the total opposite of elegant 🤦‍♀️
What breed is hector?
He was an "accident" on a working farm between a border collie and a standard poodle (which they'd bought as a gun dog). We had no idea he would turn into an absolute beast!! Love him to bits ❤️
I love him too . Don't they just bring happiness into the home. I love accidents. My dad use to breed Jack Russells . Poor sally had a one night stand . We couldn't work out with what breed. She had this beautiful jet black puppy. Looked like a Jack Russell apart from the colouring. We called her Tara . She was always a crowd puller xx

He is really gorgeous. Unfortunately my husband is very allergic to dogs so I've not had one since I left home.

🥺even the hypogenic ones? My friend was very allergic and borrowed a friend's cavapoo to see how she would react. 5 years on has 2 cavapoos 😂😂no problems

Aww he's gorgeous, with a face just bursting with character. Lucky you. xx

I did too! Absolutely lovely to see her.
Awwww, so happy! The shadow really does look like a horse 🙂 x
One giddy kipper out enjoying the crisp sunshine! A lovely photo x
Boy that's frosty there. I had to check for snow 🥰 beautiful beautiful day again so far.
I love seeing dogs so happy, having the zoomies. Ours do the same though the Podenco can outsmart our other without trying, turning on a sixpence & heading off in another direction before the other has even noticed. 🤣

Dogs playing together is truly one of the joys of life😁
Oh bless Darcy, good for her enjoying the sunshine so much. Thanks for sharing this with us, it has brought a little sunshine to my day x
Fantastic photo. It's taken me outdoors with you as I'm stuck in till monday after steroid knee jab, but hopefully then I'll be frolicking in the sun too xxx
Send us a photo of you frolicking 😂
🤞🏻the steroid brings relief

Hope your steroid gives you some relief- don't worry if it feels worse before it gets better. I had one in my knee it took three days to start working. Good luck 💐
Aww, that's really cute J, she's certainly loving it. x
Great pic, like others, I thought it was a small thoroughbred at first glance! Lovely to see a spring in their step. What breed is she, I'm trying to work it out but can't?! Xx

She is like a horse and she runs like a horse . You can here her paws drumming on the ground.. she's a a retired greyhound.. still thinks she's racing especially if she hears a diesel engine try's to jump in the vehicle thinks she off to a race ...poor Amazon drivers are prettified but the postman lets her jump in. 😂😂

😂😂😂 that's brilliant!!! Beautiful girl and very elegant looking!
Oh look at her that is one happy dawg.................
One happy dog. Thank you for sharing.
Not what you're looking for?
You may also like...
strawberry jelly making I am much happier with how they looked (see photo). Then on to make Potted...