NHS Drug Tariff prices for Liothyronine Februar... - Thyroid UK
NHS Drug Tariff prices for Liothyronine February 2023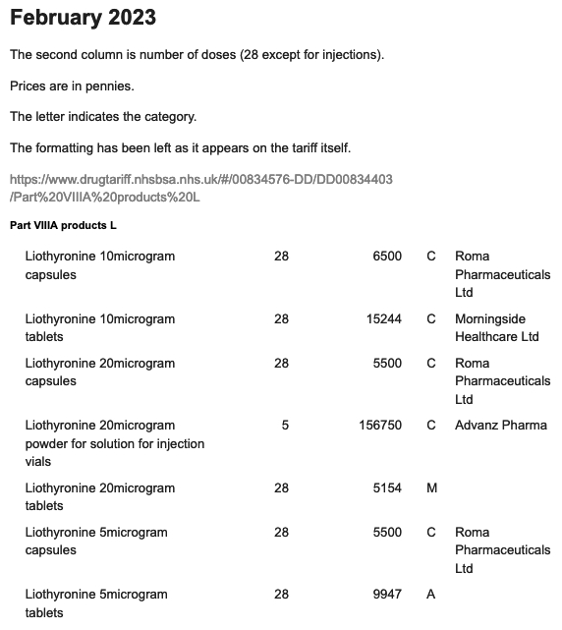 Prices are unchanged from January 2023.
Written by
Read more about...
Just looked at your Blog which gives 2013 prices as well as 2023. Am I right in thinking that prices have not come down dispite the price fixing case and fine ?
No - you have just found a typo! Now corrected.
Historical prices are here:
helvella - Historical Prices of Liothyronine Tablets in the UK
hi Helvella, I am looking for an alternative Liothyronine that I can ask for specially. Morningside has been splendid for me for a long time now, but the pharmacy tell me that they can no longer get it because they are losing money on my prescriptions. I have tried Roma but that has mannitol in it which upset my overactive bladder to a great extent. I have refused teva always before. I have been successful with Citamel, Tiramel and a couple of others issued by the NHS in the past. I was hoping to find a list if names of Liothyronine that I would recognise from your list.
All UK products are in my medicines document:
helvella - Thyroid Hormone Medicines
I have created, and try to maintain, a document containing details of all thyroid hormone medicines in the UK and, in less detail, many others around the world.
This is a large document and would be better suited to use on a personal computer or tablet - rather than a phone.
but the pharmacy tell me that they can no longer get it because they are losing money on my prescriptions
A) this is rubbish. Pharmacy gets paid same amount for any brand
B) GP can/should specify brand on prescription for you
Then pharmacy can't be difficult
Roma doesn't contain mannitol, but does still seem to upset many people who have been forced to change to capsules (even though they aren't cheaper)
How to specify particular brand on prescription
I have had Morningside Brand on my prescription for over a year now. Tesco failed to keep me supplied. Town Parmacy failed to keep me supplied. After telephoning Morningside and being told that Boots will do it, I have used Boots for the last five months. Yesterday I was telephoned to be told that they could no longer do this as they were losing money!
It was Roma capsules that I was sent six months ago and the PIL told me that it had Mannitol in it and I was experiencing BIG PROBLEMS!
Someone is wrong!
The Patient Information Leaflet (for the 20 microgram Roma hard capsules) list as below:
6.1 List of excipients
Maize Starch
Magnesium Stearate (E 572)
Shell Formulation
Gelatin
Titanium Dioxide (E 171)
Yellow Iron Oxide (E 172)
medicines.org.uk/emc/produc...
And you can avoid the capsule ingredients by removing the contents and mixing with water.
The only UK liothyronine I know to contain mannitol is Sigmapharm.
I get always get Morningside 20mcg
I use small independent pharmacy
I cut 20mcg up into 1/4's (5mcg)
I take 3 x 5mcg per day
This is substantially cheaper than 3 x 5mcg capsules per day
I take 50 .mcgms per day. 20 + 20 + 10. The pharmacist is now telling me that she cannot get any more 20s because she is losing money on that. She tell me to ask for five packets of 10s to make up to 50.
So she is expecting the NHS to pay around £750 month!
try different pharmacies
I am on my third now Slow Dragon. I am housebound because I am on the waiting list for a full replacement of my right hip. My husband is almost completely housebound as well. So we need deliveries of our medicines. When I had problems with the second pharmacy, I did a lot of hunting including telephoning Morningside themselves. They told me that Boots would get them for me. I then talked with the manager of Boots who agreed to specially get them in for me. This has worked well for six months but now this phone call telling me NO MORE.
List of online postal pharmacies
hi Slow Dragon, please can you explain to me about how the pharmacies are paid for the drugs that they dispense? I understand from your previous comment that they get a blanket reimbursement for a type of drug (in our case Liothyronine) no matter how much it has cost them to purchase it. So some of the Brands are more than covered and some cause them to be out of pocket. Is this correct?
As I understand it ….
Pharmacy gets a fixed fee for supplying drug (as listed in NHS drugs tariff
Pharmacy shops around for cheapest supply (regardless of brand)
They make less profit it have to supply more expensive brand
But if prescription is written correctly naming brand and extra costs are covered
Pharmacist2019 might be able to explain more
healthunlocked.com/thyroidu...
The system has a simple enough starting point - but becomes complex beyond our worst nightmares.
Although this document is part of a review process, it seems to contain more explanation than I had previously found anywhere.
Consultation outcome
Community pharmacy drug reimbursement reform: consultation response
Updated 11 November 2021
gov.uk/government/consultat...
No - I still don't understand the system.
There's no mannitol in Roma, maybe it has been changed since you last took it?
Or perhaps you are mixing it up with Sigma Pharma?
hi Helvella,please show me where to find your list of all UK t3 /. I can only see Roma, Morningside and Avance.
Have you downloaded my document?
Around page 55 is where UK Liothyronine starts.
There are six makes in total - but I am not aware that anyone has ever received Accord!
Below is my summary matrix. There is much more detail in the full document.
it's still appallingly expensive compared to the EU. It's pharmaceutical companies making money which is dreadful and not the way it should be.
I think the very fact that we, as patients, feel the need to track T3 prices really says it all.

Absolutely! I was so lucky to be given 10mcg liothyronine by the endo. The GP is now giving it to me whilst I wait to have my blood test on 1 Feb.
I can see from your chart how much more it is. The endo wanted the T3 to be accurate rather than splitting the pills.
I'll be having a full blood test with vitamins etc on 1 Feb.
At those prices and with the reluctance to prescribe T3, I really don't know how the ( low) cohort of patients who need (high) doses of T3 are supposed to survive.....without resorting to self diagnosis and self medication, and the difficulties that can involve.
It is basically a relatively cheap medication, hiked in price and cloaked in scientifically unfounded scaremongering.
It is an utter disgrace that patients who need a life saving treatment are reduced to price tracking.....huge thanks to you helvella for helping patients with this.
How many are suffering (and dying) behind closed doors because the Service that is tasked with caring for them is actually failing them. It starts at the top where they don't seem to care that the inflated costs of essential treatments are boosting the profits of Big Pharma and their associates, while patients struggle to be prescribed a few mcgs of life enhancing liothyronine.
AppleOrchard says I was so lucky to be given 10mcg liothyronine by the endo.
Luck shouldn't come into it....but it does! It makes it sound as if a huge favour has been granted by a powerful being.... when in fact it is just a medic doing his job!
Sorry, just having another rant
I almost feel as though it's a huge favour! It's terrible. This is medication I need. And there are so many others who need it too, and who aren't getting it.
I started taking T3 as I self medicated. I was self medicating for almost a year. I told the GP what I was doing and the endo. I don't think they were surprised!

It"s madness....I need high dose T3-only to function.They just don't / won't understand how critical it is
My GP now leaves me to treat myself.
The endo was as much use as a chocolate teapot!
Hope you are well
I can't understand what's wrong with these people. This is supposed to be their area of expertise and yet it couldn't be further from reality.
Thank you - I'm recovering from an operation but definitely on the mend.
I hope you're well too.
HIi Helvella, I have been busy all day and so unable to follow on with all the helpful comments being sent to me. I have changed pharmacy three times now trying to get someone to provide me with what I need.
the pharmacist said that I could have morning side 10mcgms if the doctor would prescribe the total required to reach the 45mcgms that I need. Surely that would mean that I would be ingesting more fillers!
Yes - but that isn't necessarily a problem.
Probably well under a single gram whatever you take!
Hi Helvelle, please help me to understand! The price of Morningside 20 tablets looks to be £51.54. So two box's would be £103.08 .The price of Morningside 10 tablets is £152.44. So four boxes would be £617.76. I can't see Teva on your list but presumably it could be the £51.54 item on your list. See next message.
The 20 microgram tablets are not specifically Morningside - it is all 20 microgram tablets. Similarly, 5 microgram tablets. There are multiple suppliers.
Prices identify make where there is something unique - e.g. Roma hard capsules and Morningside 10 microgram tablets which all have a sole supplier.
where can I find a list of all Liothyrinine20mcgm tablets that are prescribed by NHS then please?
In my medicines document - link earlier on this thread.
sorry Hevella, I failed to find it and was ashamed to tell you, and then life got in the way again!
This is from that document:
thank you again Helvella. I did see this but I was expecting a list of about twenty different bands because I have been given other brands over the years before settling on Morningside. Roma and Teva did not suit me at all, and your chart made me think that none of the others would either!
There are no others currently licensed in the UK. (It's possible I'd miss a new make, but I did re-check just the other day.)
Just a few years ago, there was only one! Advanz Mercury Pharma (formerly branded Tertroxin - later debranded).
Other makes that have been mentioned on the forum are not licensed in the UK - Thybon Henning, Ace Cytomel, Pfizer Cytomel, Uni-Pharma T3, Abdi Ibrahim Tiromel, Grossman Cytomel, Sanofi Cynomel, etc.
OK Thank you so much for you time and help with all this. Having saved my life with COVID vaccines, it appears that they want me to die because of my need for Liothyrinine!
The Boots pharmacist told me that the Morningside 20 cost them more that the payment to them, so they were losing money every time. Looking at your list, there appears to be no other choices apart from Teva and Roma. Both of which I could not tolerate.
You and I are regularly told that the price the pharmacy pays is commercial - in confidence.
That might be different to the NHS Drug Tariff prices. And yes, the pharmacy could get reimbursement that is less than they pay.
But it isn't your problem. It simply can't be because you don't have the information to base anything on. You can't be responsible for Boots losing money! Just like you are not praised by them when they make money.
If you need 45 micrograms, the least expensive approach is two 20s and a 5. Which would be £202.55.
(Roma hard capsule prices are posted list prices. So they are known absolutely.)
I do understand that you end up in a difficult position.
But Helvela, it is my problem when the pharmacist tells me that she cannot get any more for me after this month! The endocrinologist has prescribed 2 x 20 plus 1 x 10 mcgms. But she has also added in 25 mcgms of Levothyroxine as well. I found it very difficult to take the Levo because it caused chest pain and palpitations. So I took half a tablet and my body has now got used to this extra. So I take a ten or half of a ten depending on how I feel and all is well at the moment. No pain or palps on T3 alone. It is just the T4 that causes problems.
Is it prescribed as "Morningside"?
If so, I suggest that you have to contact some part of the NHS - probably your local Integrated Care Board and ask for their help. Or even try your local PALS (as a place to start).
We (patients) have next to no power over pharmacies in this sort of situation. You need some official body and, even if it eventually went to a national body, I think you have to start local.
Have just added prices from Scotland for January 2023 (the latest available.) They only list 20 microgram tablets.

Hi helvella , thanks as always for your hard work. Much appreciated. Can I ask though where is it you've added the Scottish prices and where you found them? Apologies if I'm being completely obtuse but I can't find them despite looking. I always just assumed the Scottish and English NHS Drug Tariff prices were the same.
Not what you're looking for?
You may also like...
The new NHS Drug Tariff for March 2022 is available. Prices are in pennies for 28 tablets....