Funny pic : Hope this makes you all smile ready for... - LUPUS UK
LUPUS UK
28,575 members • 24,823 posts
Funny pic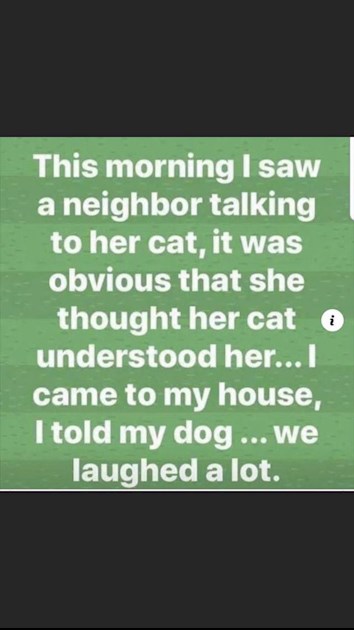 Hope this makes you all smile ready for a lovely weekend 🥰
😂🤣😂 My dog found this funny too!

😂😂🥰

Love it, JM! My day just got better😂
Hysterical reply, can't stop smiling at it 😂😂😂
Brodie said he didn't think cats had a sense of humour 🐱
😂😂😂 how are you Cecily ? Xx
I am really trying but the cellulitis has flared again, so damned annoying and I think I am in a flare, pain in left rib catching my breath and hot pain in my pelvis and lower back. Still I am grateful my leg is healing, my nose is not bleeding and hopefully I will soon be back to doing more and building myself up again. How are you? I love your notices we all need to smile more and you really help with that thank you so much xxx
Oh that sounds really painful for you, luck has not been on your side these past months - really hope you come out of your flaire soon and your right we all need a good laugh - I get pleasure out of just the simplist of things and I'm doing pretty good at the moment although Mira has had us worried this week- 2 trips to the vets with sickness and the runs, she has really been out of sorts but think she's slowly getting better - big hugs and lots of love to you 💕
Oh no poor Mira. Do you think it might be the heat? I hope she is feeling much better soon. Dylan has an embarrassing problem his rear end stinks no matter how frequently I was him, several times yesterday. I think it is his anal glands bless him so we will call the vet on Monday. We just had lovely pizza in the pizza oven we bought m just lovely. Have a lovely weekend xxx
Mira likes to scavenge, vet thinks it's something she's eaten in the garden, we get lots of foxes in our garden and I w caught her eating foxes poo before - Bea on the other hand would never do that - poor Dylan I think your right with the anal glands, not a very nice job - your pizza sounds wonderful x
Oh bless her. It is strange because although they are fed the same Dylan is careful what he eats having to sniff it many times before he takes it but Brodie eats without chewing, eats toilet paper, paper tissues etc if you don't stop him. Then usually throws it back up. The pizza was lovely thank you. The first time we used it they caught on the bottom before the top cooked . This time I made the dough thinner and cooked the pizza with the tomato and herb sauce before putting it back in with the toppings on. Neil burned his finger but other than that we really enjoyed them xxx
Bottom….. bottoms…. Pizzas, dogs? I can't seem to get to the bottom of the story 🤣🤣

😂😂😂
Brilliant 🤩! Have lovely weekend and take care x
😀😃😃 Thank you for sharing!
As someone who is certainly a dog person, I agree! I mean I even talk to other people's dogs 😂

😂 yes I talk to my 2 dogs too and I'm sure they understand what I'm saying 🥰

So do I😀

😂❤️
Absolutely love this! I talk to Pumpkin and Gigi constantly. The more I talk to them, the more they understand. Now I talk to the baby fox and baby raccoon that come to the porch. Then I explain to Pumpkin and Gigi why I talk to the "visitors". Hmmm, what does that say about me?
Healing hugs.

How lovely to have your furry friends visiting you on your porch xx
My hamsters thought this was hilarious! 🤣 I talk to the garden birds. Named some of them too! 🤣🤣

😂😂😂❤️
Not what you're looking for?
You may also like...
thought I'd post something different. Hope it makes you smile. Keep safe and well.
MistyX