Pennsylvania Dutch Red Beet Eggs: Had a... - Healthy Eating
Healthy Eating
52,986 members • 9,793 posts
Pennsylvania Dutch Red Beet Eggs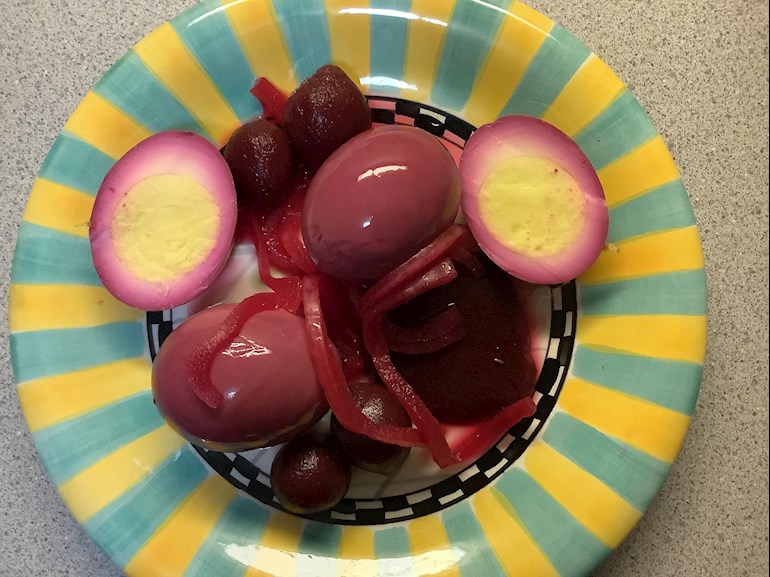 Had a hankering to make these again. Warning: Don't decide to make them when you're hungry. Twelve eggs to peel…….
Written by
They look very pretty, have you resisted the temptation to try one? 🙂
No way could I resist the temptation. Lol I had a good serving for my breakfast. They didn't disappoint. Come join me for a repeat at lunch!
Thanks for the invite, will do with pleasure. Cant mend your fence though. 🙂😁
I never put my dear guests to work. I'll get the silver out….
Couldn't settle for anything less, the hostess with the mostest. 🙂🥚🍴
Lol Now, what for desert? Any suggestions?
How about Apple strudel with ice cream? 🙂😋😋😋😋😋
You got it, R! Time for some scrumping! And I think the ice cream will be ready by the time everyone arrives.
Oh yum, they look gorgeous and very tasty. I really would have to eat the lot!! 😋 It looks very artistic too, well done.
Guests first, Springcross. 😋
What guests, they're mine!! 😄
Uh oh! Back to the kitchen I go! Lol
Double helpings then - even better! 😋
Your wish is my command!😁
They do look beautiful 💜 What do they taste like?
Me being me, after I googled Pennsylvania Dutch Red Beet Eggs I went on to google Pennsylvania Dutch Red Beet Eggs no sugar
thesophisticatedcaveman.com...
Oh! Well done! Since I cut the sugar by half,they're not too sweet. I think I could cut back even more and increase the vinegar. I'll check out the link.
Thank you for the link. The recipe doesn't sound too difficult and making the eggs deviled is a great idea.

You could simplify it by starting with tinned beets and the liquid, then it's a very short recipe.
It would be quite different to your recipe. Personally, I enjoy the sharp taste of vinegar - I prefer sour gherkins/pickles than the sweet ones.
Oh,I've already thought of that. Tinned beets it is!👍🏼
Bella Bella bangs it outta of the ballpark with her first food pic on healthy eating and the crowd goes wild

📢📣
Its really pretty to look at and looks really tasty.
You make me blush a nice shade of purple. Lol Thank you, Imaaan. 💜
To maximize the use of the beets, swipe them on your lips to get them naturally tinted so they can compliment your blush

Hey sister that looks so good and tasty i literally want to teleport threw my phone and have me some lol😂😂😂. You mentioned dont try to make them when you are hungry well i will probably fail at that task because i cannot cook, to save my life lol😂😂😂. Great post 👍👍☺ thanks alot for sharing that with us my dear friend.
Hey, M! Thank you. I see you are a reading rabbit. If you can read a recipe, you can cook. Although when I imagine you in the kitchen trying to follow a recipe, it does make me chuckle.😂 Beam Me Up, Scotty!
😂😂😂 if only you can see how hard i am laughing at your coming my dear friend you always make my day. Yes indeed im a reading rabbit i may can read a recipe but me actually cooking is like me wrestling with Superman lol😂 its a losing battle😂 beam me up Scotty is the perfect scenario lol😂
Looks lush
Thank you, Dodge!
You're eggs look amazing Isinatra so you enjoy them.
So pretty and girly coloured 🌺 🌸🌷🥚 Looks so colourful on your plate.
I checked Subtle badgers link and realised it was picked Beet eggs, I've seen the normal pickled eggs in our local fish and chip shop but not the coloured ones. Sounds delicious as I love sour pickles. I'd probably not add sugar and keep them sour tasting 😋
Hey, Zara. I've saved the recipe from Subtlebadgers link. Im going to make those next time. Yes! Love the sour!
I love the posh name for these pickled beet eggs too..Pennsylvania Dutch Red Beet Eggs
The recipe came from a comfort food site in the hills of Pennsylvania. Supposed to have something to do with coal miners….

Hi Isinatra
Wow, these look really great.
Zest

Not what you're looking for?
You may also like...
can be cooked in the soup for extra flavour. It makes a nice meal with some crusty wholemeal...