Spelt Sourdough Bread : I was finally... - Healthy Eating
Healthy Eating
52,883 members • 9,768 posts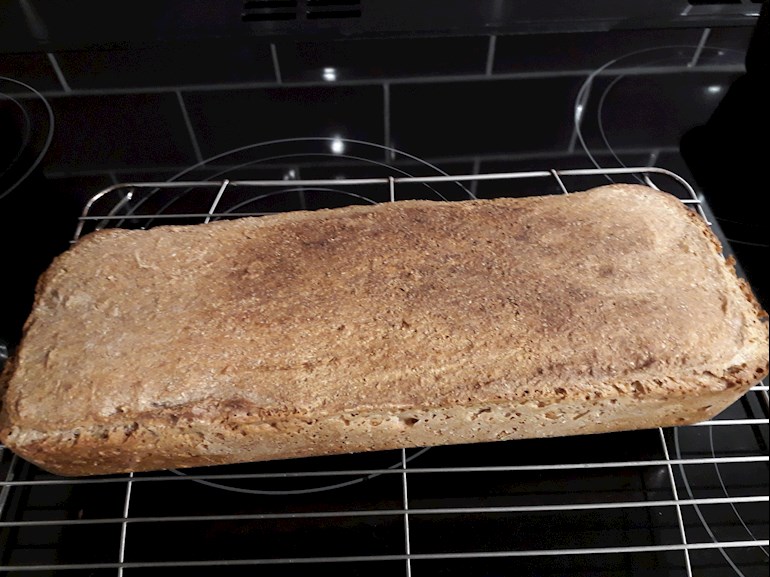 I was finally successful in making Spelt Sourdough Bread.
The photo is taken at an angle, the bread did rise.
Wow Alicia your sourdough bread looks totally amazing and very professional so well done you.
You enjoy your lovely home baked bread now... 😀
Thank you Jerry and also for your help with recipes and websites. I used the Dove's Farm flour and their website.
Starter's in the fridge resting ready for the next batch.😁

Hi Alicia,
Your Spelt Sourdough bread looks great, I hope you're enjoying it.
Zest

Hi Zest
Thank you and I'm pleased it's worked.
Alicia😀
Is sourdough bread good for ovarian? Gwen Xx
Sorry thomas not sure what you mean?
Hi there crazyfitness, I think I meant does it act like a supplement for ovarian cancer or is it just because it's good for you. Gwen Xx
Hi there Gwen
It's because sourdough is fermented so contains natural yeasts and is therefore much kinder on the Gut. Also Spelt flour is an ancient grain and if you go on the IBS Network you'll see they say it contains less Fructans therefore much easier for those with IBS to digest and tolerate.
Hope this helps.
Alicia xx

Hi Alicia,
Thanks for the info. I do know fermented foods are brill for the biome. I have read very recently that a lot of sourdough bread sold in shops like supermarkets, etc. have their recipes changed so that it isn't a "proper" sourdough bread. Gwen Xx
Yes you are right. Apparently there are very few stores that sell 'real' sourdough bread. Now I've got to grips with using Spelt flour I'm more than happy 😊
Hi again, I do like sourdough bread - perhaps I should try make it myself. Do you know of any outlets that make a proper sourdough loaf? Gwen Xx
Hi Gwen
I've just looked online and found this interesting article.
telegraph.co.uk/news/2018/0...
One of the shop bought ones I love, Sainsbury's Multiseed sourdough is authentic.
This is the sourdough I've made twice now, I really like it and it's kinder to the gut, I have IBS.
dovesfarm.co.uk/recipes/who...
This is the best Spelt I've tried, others didn't work for me. Xx
Thanks for the info. crazyfitnessv- will be visiting Sainsbury's. Will take a copy of the recipe -might get round to making my own. I do have a breadmaker but have never used it!!!!
Gwen Xx
You are welcome Gwen. Although it seems expensive for different flours it isn't because buying readymade, mostly not real sourdough, is expensive.
I have a breadmaker but haven't used it in ages but this recipe is all done by hand and is so easy, so far I've made 2 loaves and the first time inadvertently skipped the 2nd dough but it worked. So it's not too crusty put a tea towel/large dishcloth over the top once out of the oven.
Just message me if you need help.
Alicia xx
Thanks crazyfitness for all the info. you have shared with me. Much appreciated. Have a lovely Christmas and let's hope we all have a healthy and happy 2020. Gwen Xx
You are most welcome Gwen.
Yes definitely, here's to a happy and healthy Christmas, New Year and 2020.
Alicia xx
Not what you're looking for?
You may also like...
looking on the internet looking for a sourdough starter and bread, does anyone know of a good...