Finished hoorah: So that's it nine weeks and... - Couch to 5K
Couch to 5K
117,103 members • 148,421 posts
Finished hoorah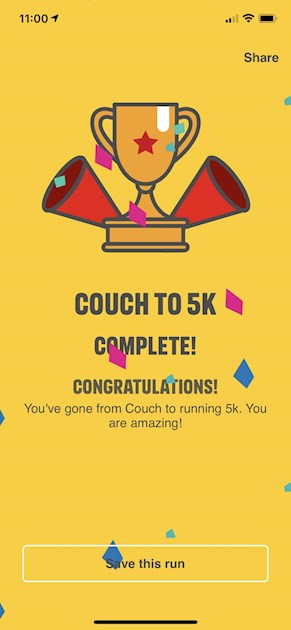 So that's it nine weeks and 27runs. Couch to a little under 5k finished. Woohoo.

Congratulations! 👏🥳. It's good when you get that last run under your belt. Keep up the good work!
Woo hoo indeed! Well done 👏🏼. 🏆🏆🏆🏆🏆
Thank you. I see you are up to an hour running now. How easily does that come. Can't imagine it quite yet 😊
Bit by bit tbh! I carried on running for half an hour 3 times a week for about 3 or 4 weeks, just to really make it a habit, then I added 5-10 minutes once a week, so on and so forth. It's all about being patient really 😀. Enjoy your new found skill!

Congratulations on graduating!
If you're looking to increase the time of your runs, remember to keep within the 10% rule i.e. keep increases in individual runs and your weekly total under 10% a week. It's a good idea to have a cutback week once a month or so. The bridge to 10k forum is a good place for support and for plans to get you to 10k.
Right now, it's a good idea to do a few consolidation weeks where you keep on doing 30 minute runs.
Happy running!
Yes good advice don't worry I won't go mad 🤪
Reading it later, my reply seems a bit negative (although I think the advice is correct). I found it easy to build up just following the 10% rule (although there will always be some runs that feel really easy and some not so easy). If things go OK, you're likely to reach one hour runs around the end of May.
Congratulations on your graduation 😁👏👏👏
Don't forget to claim your Graduate badge 👍
Many congratulations on your graduation, fellow runner.
This guide to post C25k running may be helpful healthunlocked.com/couchto5...
To get your Graduate Badge leave a message at this month's Graduation Badge Post, which you can find in the Pinned Posts here healthunlocked.com/couchto5...
Keep running, keep smiling.

Amazing! Well done. I have enjoyed reading your updates! 👏👏👏 Two more runs left for me!

Congratulations!!!
congratulations and celebrations - well done!!
Brilliant!😀

Celebrate your triumph

Congratulations 👏🏼 well done on your graduation!
Happy running 😎

Congratulations markbrom it's a great feeling to graduate C25k, Well Done
👏🏻👏🏻🏅🥳🥳
Not what you're looking for?
You may also like...
the 3rd run of Week 2 done, it went well, was much easier than Run 1 & 2 of the week. I've slowed...