Recipe for Chickpea Curry: Here's the... - Vegan Foods for Life
Vegan Foods for Life
765 members • 1,302 posts
Recipe for Chickpea Curry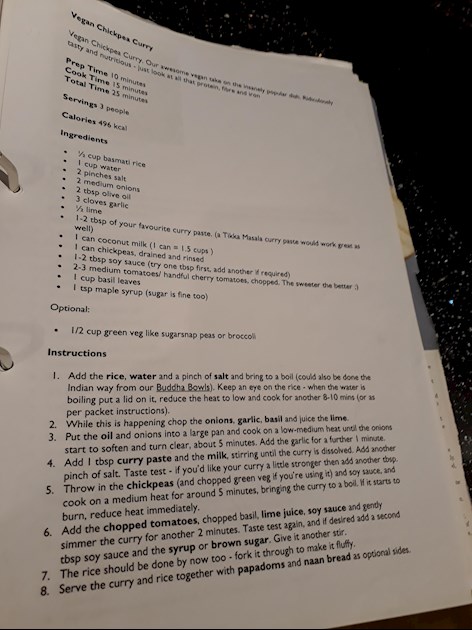 Here's the recipe for the link below.

Thank you Alicia 😀
You are welcome. Just a tip, I added in some butternut squash I had in the freezer and then added some spinach at the end.
Alicia😊

This looks lovely. I would enjoy this 🙂
I went to a party over Christmas and they had caterers providing Indian food. It was very nice but what I especially liked and have now started to do is have a coriander dressing to drizzle over the top. I did a little selection with mango chutney, lime pickle, finely chopped onion and cucumber and a little bowl of this sauce. It really does finish off a curry well. It only makes a small amount so you just drizzle a teaspoon on top 😋
Coriander Sauce(blend everything together)
One bunch coriander
Half a lime/lemon or apple cider vinegar
A pinch of salt
A little water to blend
Dash of olive oil (optional)
Small onion or spring onion (optional)
Ali 🙂🌱
Yes I think you would. I added some butternut squash and added spinach towards the end.
Ooh, that drizzle sounds lovely and thank you for the recipe, I will make that. Lime pickle sounds really lovely, I'll either look out for that or make some.
I love this forum, loads of lovely food, tips and recipes, what's not to love.😋
So do I. It's a great place to pick up and swap ideas 😊
Yes it really is and also good to know if something doesn't actually work or taste good, like the gluten free sourdough I made which was awful.

Lol. Reminds me I've been there with gf bread I posted that squeaked like polystyrene 😂
Quite, mine was awful lol🤣
Not what you're looking for?
You may also like...
delicious, so I decided to share it:
Easy Vegan Thai Curry
================
400ml tin of Coconut...