Do you see any resemblance? 😉😂😻 - Positive Wellbein...
Positive Wellbeing During Self-Isolation
9,892 members • 10,406 posts
Do you see any resemblance? 😉😂😻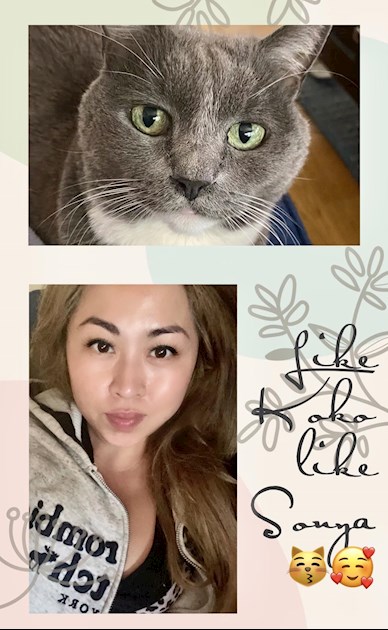 They say Pet Owners look like their Pets! 😅 Is it true? 🤣😂😽😻🙏
Awww both of you adorable and cute 🥰
Awee thank you my Hibachu. We are partners in crime 😾😼😾😸😽
🤣🤣 so your team rocket 🚀🤣🤣 you will steal me because I am a rare Pokémon 🤣🤣🤣🤣
You are very rare Hibachu. One of a kind I wonder if I can find another one in this life time? 🧐🤨
maybe not 🤣🤣
Don't second guess yourself Hibachu 🤣😂❤️
Two beautiful young ladies 🤗❤
These are great photos and I can tell whose who...😁
Awe thanx Jerry. I think Mandy will have the last saying in this 🤣😂😻🙏
Lol well you are image of each other exept the grey hair lol with me and pixie it's the hair that's similar lol hence eye liner on fleek still in practice 😁😁😁will try find photo, wonder if any men out ther who have a grey pixie can say they resemble it lol 😁😁😁
🤣😂🤣😅 no grey Mandy. Cant wait to see your next post with pixie. 😽😻❤️❤️❤️🌈🙏xxx
Let's see lol
Eyes to kill 😉 Look into the camera Mandy, we talked about it! 🤣😂❤️❤️❤️xxx
Lol will look for phot same 😁😁
Awee pixie 😻😻😻looks just like Mommy Mandy ❤️❤️❤️xxx
Just like my mummy lol in bed all day 😺😺😺
Aweeee pixie 😻 okay do U think he wanna ask Sonya out? 😽😽😽
Sonya is too pretty for me meowow I've been neutered I may not be good enough I like a good sleep lol and I'm greedy with my food purrr otherwise I'm a top cat 😺😺😺
Sonya may like this photo of me 😺😺
No worries Mandy, Sonya likes to cuddle 😻😻😻
he looks like he's getting ready to dance! ... ??
Paw play in the bedroom Sonya luv pixie
Pixie can resemble this lol hang on
Mysterious lady with eyeliner on fleek 😍😍😍xxx
GREAT eyes!! i always look there first!!!
Oh I'm.surprised lol where do you look 2nd lol don't answer 😁😁😁xxx
don't answer? well... i don't always take orders very well....

well - if we're talking about where i LOOK only... because what comes out of the mouth is also very important to me!!! (what's between the ears)
1st - i look @ eye's
2nd - i look @ whole face ..... tho - these kinda go together
3rd - i look @ whole body....
after that - i'll let you use your imagination!!!!!
Lol my mam used to say a man doesn't look up the chimney when he's poking the fire lol referring to a comment I made in our local pub about a good looking guy who took a ugly girl home lol he had is pick of women 😁
i just a little bit pickier than that!!!


Hey wait till I do my eye liner on fleek lol like pixies 😁😺
Lol I look like mummy
Mummy is considered rare antique Mandy 🤣😂❤️
It's too dark to take photo of my hair lol pixiebob patterns 😁😁😁
I'll try again lol just finding photos
Lol Jerry she is image of her mummy exept the grey hair my pixie has same hair as me re my mum wasn't that good with the hair dye so got pixie Bob hair tones lol 😁😁😁
Hey Jerry I am just like my mummy in bed most of the day lol 😺😺😺debating whether to get up 😁😁😁
The eyes, yes.
Aweee I'll take dat Mr Tao 😊🙏
Hey what if that cat turned into a human 🤣🤣
It's Sonya. Not dat cat 🤓 and yes she is like a chameleon, she changes through out the day. Don't know what I'm looking at 🤷‍♀️🤣😂😂
C'mon Hibachu show some respect to Sonya😲😅🤣
Yes be like GB1, he always shows respect to the kitty 🤣😂👍
That kitty deserves the utmost respect🙏😺
Awee you sure know about kitty GB1, it's the essence from within that spreads joy to our lives 😻🙏
Koko and Sonya both have that glow👍🌞
Forget everything. It's all about the glow☝️☀️Nirvana will be achieved 😉🤣😂🙏
It's the glow of the enlightened ones🌞🤗🙏❤
The Buddha glow is all everyone needs 😇🌈🙏❤️
😺Jerry the kitty
Aweeee Jerry is sooo adorable, u sorta look like him a bit with the light turned off🤣 😻😻. The nose though, kinda resembled someone from World War I and II 🤣😂😅
Hes been through a lot😅😂🤣. My sister used to hug him way too much😅
Oh ya can't put a tight leash on Jerry, let him breathe, happier that way😉🤣😂😅
Me is sorry 🤣🤣
I will let it slide this once🤨
Sorry for the kitty or for GB1 cuz I don't think he's sorry at all 🤷‍♀️🤣😂😂
But now there's no where to hide and since i pushed your cats love behind and i am out of my head hopelessly devoted to you 😂😂 that song is stuck in my head
Are you saying since you saw this pic, you will hopelessly devote to Koko? 🤣😂😅❤️🙏
Yes 😂😂
Aweee you and GB1 are Koko's fav now 😂🤣😂❤️🙏
😊 no heartbreak and no tears 😂😊
Tears of joy 😉🤣😂❤️
Yes 😂😊
Hiba time to make another post now 🤣😂👍❤️
pets look like owners???
i can not tell you two apart!!!
i see 2 gorgeous ladies, with intelligent eyes that could look clear into my soul!!!! whew.... someone get me a fan!!!! it's getting hot in here!!!

😘😍
Thank you Rob. I'm flattered 🥰😘. No hot n bothered here, just Zen 🤣😂🤣😅☯️🌈🙏xxx
Both such gorgeous photos I'd say KoKo 💜💜💜🌺🌺💞💞💞 xxxx
Aweee thank you Alicia. I'm couch potato today with Sonya next to me 🤣😂😅. I hope you had a great walk as usual and a fantastic rest of the day. 🥰🥰🥰🌞🌈🙏xxx
Nothing wrong with being a couch potato occasionally, have to relax sometimes and cuddle up to our furry friends, our cat is asleep under the bed.
Enjoy the rest of your day.😺😺🐈💜💜💞💞💜🌸🌸🌺 xxxx
Aweeeee thank you Alicia. I got the approval of Crazyfitness Lady so I am okay 👍😂. Sounds so serene over there. Love our babies 😻😻😻 🥰🥰🥰🌺🌸🌈xxx
Love it, I'm definitely crazy alright🤣🤣
It certainly is, we're chilling 😉😉
xxxx💜💜💞💞💞💜😺😺😺
Love you Alicia. You are our inspiration 🥰🥰🥰❤️❤️❤️🌈☀️🌻🌺🌸🌹xxx
Aww bless you KoKo for saying that 💜💜💞💜💜🌺🌸🌸🌺 xxxxx
Aweee Thank you Alicia. Have a good rest of the evening and sweet dreams whenever you are ready for bed 🛌 😇🌺🌸🌹🌈❤️❤️❤️🙏xxx
Thank you KoKo, about 1/2 hour until bed then out walking again tomorrow 🛌🛌💜💜💜💞💞💜🌸🌸🌸🌺 xxxx
NO Way!😇
😅😂😇🙏
Great picture. Those are lovely eyes
😊🙏☀️🌈🌺
No -I dont think its true in my opinion unless their coats have been specially cut to make it that way but naturally -No
You both look lovely
Thank you Sara 😊. Yes, it is not true in physical form. Our pets are our bundles of pure joy, they are lovely, innocent and always ready to play. The deeper meaning of this post is when our inner being is like our pets, our outer being will be vibrant, cheerful and loving that we can stop all the nonsense and spread joy to others. Have a wonderful day ahead! ☮️🌈🌻🙏

oke cokey -beauiful pics though
Both of you look adorable . Clive X 🤗
Awe thank you Clive, you're so kind 😊. Have a wonderful day ahead! ☮️🌈🌻🙏
Yes, I see wisdom
Likewise 😊🙏. Have a wonderful day ahead Tidus! ☮️🌈🌻🌞
Not what you're looking for?
You may also like...
ongoing needs of many pets waiting in shelters to find their forever homes. Adopt a pet from animal...