Ovacome Conference - Sat 4th March: Hi Ladies... - My Ovacome
Ovacome Conference - Sat 4th March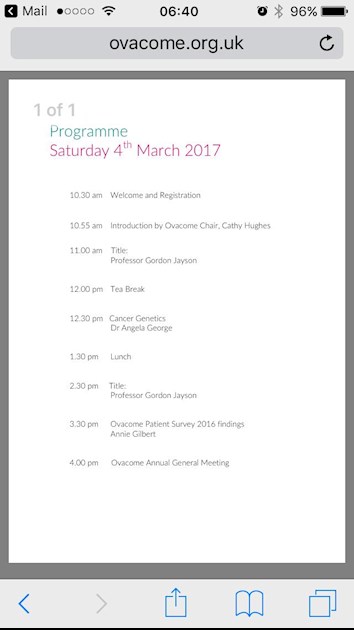 Hi Ladies
Anyone going to the OC conference tomorrow in London?
I'm planning on going, be nice to meet up.
Love Michelle x
Written by
See you there ; say hello and introduce yourself x

Great.. I'll see you tomorrow! x
I've pulled out unfortunately because of engineering works on my line, increasing my journey by an hour each way on a bus in the middle.
I went last year and it was very informative and great chatting to others at lunch and coffee. Hope to be there next year!
Hi Michelle
I am going tomorrow and would love to meet up. I will look out for you at coffee . Saw the great photo of your new hair . I will have a purple hand bag and scarf . Am looking forward to hearing more about Avastin from one of the speakers as having every 3 weeks . No 4 of 18 next Tuesday .
Look forward to meeting you tomorrow . Love Kim x
Hi Kim
Brilliant.. I'll look you for you.. gosh haven't decided what I'm wearing yet.. could pop a rose in my lapel 😂 - I have No. 18 of Avastin on Tuesday.. my final one..see you tomorrow x
Can't get there I'm afraid, enjoy the profs talk he's a very eloquent man, I'm sure you'll find him interesting. I'm planning to watch the live stream ❤xx Jane

Jane, are you watching live stream by any chance? No sound on link I found 😕 keeps saying error. Hope they're trying to sort x
Hi Michelle,
I had hoped to,but daughters birth is getting nearer and her husband is working tomorow,so I am the first hand! Will be meeting with you soon,let us know how you get on
Carole xx
Wish I could be there but will try and watch, our countryside broadband is SO SLOW though!
I've put forward a question about radiation and interperitoneal chemo which is being used more frequently in Canada and the U.S. for clear cell and would have loved to have been able to meet the lovely supportive ladies behind the names.
Hope it goes well
Clare xx
Me too, ( from Manchester) - have had a couple of busy days in London staying in Bloomsbury.... see you soon x Janet
Wish i had known about this. I can't make it. Is there a link to the webcast that i can playback?
Not what you're looking for?
You may also like...
Evening ladies. I picked up this magazine yesterday at Christies. He is speaking at this event and...