Where should you be today?: For those... - Positive Wellbein...
Positive Wellbeing During Self-Isolation
9,876 members • 10,027 posts
Where should you be today?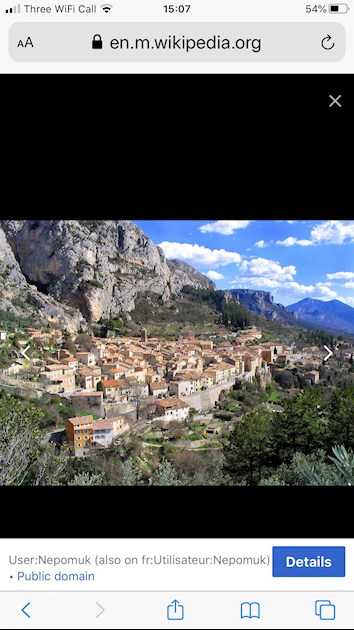 For those of us who had holidays planned, this is where I should be.
Moustiers-Sainte Marie Provence

I bet you were gutted when you were told it was cancelled.
Oh dear. That's hard. I might have gone away in May but luckily never got round to booking anything. I can imagine it's disappointing to imagine you could be somewhere else. It's worth staying in to help the NHS. I hope you can enjoy your holiday another time.
We have a motorhome but trouble is getting older all the time

Have you. That sounds like fun. Yes I know what you mean. Tomorrow is promised to no one and time is slipping by x
That's a lesson I learned after I had blood clots in my lungs how tomorrow isn't promised to anyone no matter how supposedly fit and healthy you are.
Any news of Teddi and twix as I bet you are missing them.
Hi Hylda,
It's a huge disappointment for so many of us, isn't it Hylda? I wasn't due to be away just yet, but had a trip booked to Montenegro later in the year which almost certainly won't now be possible. But hold on to the hope of getting there some day. I know I'm doing that with my trip. Hope of surviving this crisis will be my bonus for this year, when so many, unfortunately haven't. For the rest, if I make it through, it can all be rearranged. Take care and look forward to brighter days. 🌈

Thank you. This would have been my fourth attempt to get there. Hopefully 5th time lucky 👍🤞🙏
You're safer at home Hylda. Provence will still be there next year. x

Looks lovely , Never mind, something to look forward to Keep you going 👍.
We were supposed to be going to beautiful Cornwall but it's all off for now

Hidden
in reply to
Hidden
Its disappointing isn't it when you look forward to something and its cancelled at the last minute!

I want to be there. Do u speak french.

We have enough to get by and have a laugh with the locals. We kept a boat in Cherbourg marina for eight years so we polished up our school French.
Not what you're looking for?
You may also like...
DELETE YOUR LAST RESPONSES THIS IS NEW. 🎃
WHAT SHOULD YOU BE FOR HALLOWEEN?
USE THE MONTH AND...