For Those on Dialysis are You Aware of This... - Kidney Disease
Kidney Disease
7,026 members • 2,850 posts
For Those on Dialysis are You Aware of This Innovation?!?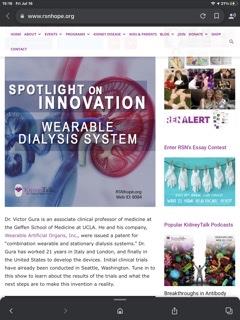 Please forgive me if this has been posted but if not I found it very intriguing.
This is the link.
Written by
It came to my inbox this week. It looks promising especially with the amount of water it uses compared to all other modalities.There is a link to a video on YouTube that provides a visual that explains it better than the podcast from RSN.
Thanks Mr. Kidney! This is the first and only place I have been exposed to it so I wanted to get the info out if it hasn't already been posted. Do you have the YouTube link? If not I can go get it. Thought I'd add it if you don't want to in order to make it easier for those interested. I appreciate the update and improvement to my post. All about getting the best info out there!
I have the link but it's on my computer in another room and I'm post-surgery for another two days and can't get around until late Monday (hopefully).I'll post it Monday if someone has not done so by then. You can do a search on YouTube by looking for a wearable dialysis system.
Sorry I couldn't do it now.
And get about 50 different videos. I'll let you go get it when you are up and around as I don't want to send folks down the wrong path. Thanks Mr. Kndney!
If you look at your link and scroll down below the place to start the podcast the link is there for the YouTube video.

The other day, I recalled you mentioning having some upcoming surgery. Hope it went well and you have a speedy recovery. We need you on this forum. Best.
I had foot surgery and I get fit for a walking boot on Monday after the bandages are removed. I'm using my cell phone for posting now.Thanks for the kind words.
While googling about biowearables (still expensive and limited to blood glucose except for research) I came across this page. It looks promising to say the least.
drexel.edu/now/archive/2021...

I found the pictures of the devices in question (from the podcast). Version 2.0 (11 lbs) drgura.com/contents/wearabl... 3.0 (2 lbs) todaysmedicaldevelopments.c...
Excellent article Michael__S. As Mr. Kidney pointed out, the stuff on YouTube with other types of wearables using water have significantly less than used currently in normal dialysis. However, I just wanted to get info out there about what is coming as you did and Mr. Kidney did so those currently in dialysis as it can be a long slog with some folks on for decades or those of us who will eventually be there if we live long enough what might be soon! Thanks for your contribution and I hope other will contribute additional new type of information on the same general idea!

Old news
It may be old news to you and a few others but RSN offered the podcast on a recent newsletter and we have thousands of newer members of this community who appreciate seeing something new to them.Not everyone has your experience and what's old to some is new to others.

Agree
Also interesting implantable bio artificial kidney. FDA should approve human clinical trial within 2021. You can go on YouTube and search The kidney project from university of California.
It's a collaborative effort between UCSF and Vanderbilt. Up until January 2021 my nephrologist was a doctor and professor at Vandy. He was colleagues with Dr. Fissell, head of project at Vanderbilt site. I was cared for when in hospital at Vandy by Dr. Fissell's wife, also a nephrologist. We would talk for hours each month about these newer potential devices.
I will remind you, none of them are cures. Some will still be unqualified due to underlying health issues like heart issues or vascular problems. There will always be a need for clinics. The kidney project has been purporting readiness for clinical trials for 5 years. Projects like these are a very lengthy and complicated process with lots of specific guidelines, specifications and governmental hoops to get through in order to get through each phase. Oftentimes they can fly through several then hit a snag that can cause a delay for a year or 5. If interested, you can follow any of them on their website, Twitter feeds, or Facebook pages. I follow all. I apologize for being flippant. I've been following these for awhile. I can forget that newly diagnosed may be new enough to have been out of the loop.
I would encourage everyone to stay up to date in educational literature. Please consider following monthly newsletters from National Kidney Foundation (NKF), American Kidney Fund (AKF), American Association of Kidney Patients (AAKP), Home Dialyzors Unitedr (HDU), Home Dialysis Central (HDC), Renal Support Network (RSN), Fresenius, DaVita and ESRD Networks. Each organization offers varying newsletters, websites, Twitter feeds. They also offer volunteering opportunities from going to D.C. to better assist in legislation (virtual now) or virtual conferences, webinars, local or online support opportunities. You can be as involved as you want.
Blessings
P.S. CKD 42 years, Dialysis 19+ years.

Thanks KC. You are not flippant, you said things as they are. Nobody should have the feeling this is cake walk. However hope you can convene if this device will work it will a revolution inside CKD world. My I have your private email as I'm very much interested on this program and seems you have deep involvement.Im from Italy, thanks
Sent it to you thru messaging here.

What a great post KidneyCoach! Obviously my post was old news but generated this type of info….so awesome. Please keep all of us updated as you can, sir! Thanks so much for your "fair and balanced" approach to this wonderful information!
BlackKnight
So far my Dr. approved ordinary hemo machine
So, you have decided to go with in-center hemodialysis?Was this your choice or the nephrologist's decision?

They don't list me on transplant coz my BMI. So let's give to others who needs.

Your life and my life are no less valuable than skinny people. It really sucks. I'm 58, work full time, have a husband and daughter who will lose their health insurance when I go on dialysis and lose my job. My employer will not lose the fte to let me work part time so I can go on dialysis. It is only a matter of time. I just had the first of two surgeries to create a fistula. I weigh 224, not 624, and my surgical outcome projections aren't any worse than thin people. They are actually better than underweight people. Yet I can't get a kidney.

I'm 52 just lost FT job, can't work any more due to neuropathy. Treatment normally 4hrs so clinic close at 10pm you need to checkin before 5pm, should be ok. Please apply Medicare then you won't need any ins from employers. I have Medicare $1xx/mo and Kaiser $0/$20 (dental upgrade). You had "two surgeries to create a fistula" so you have fistula on upper arm? Make sure tight bandage really good after treatment.

Medicare won't cover her husband and daughter.
Not what you're looking for?
You may also like...
undergoing dialysis treatment what was your GFR value when your doctor advice you that u need...