Jubilee Bank Holiday : Hope everyone has a lovely... - LUPUS UK
LUPUS UK
29,618 members
•
26,153 posts
Jubilee Bank Holiday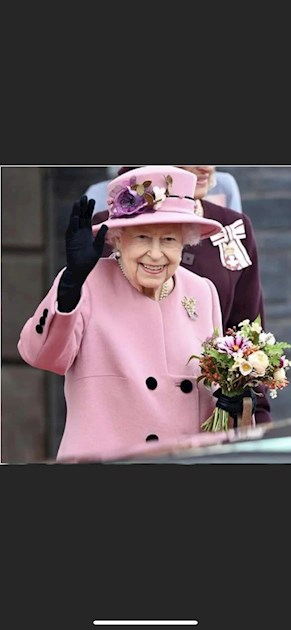 Hope everyone has a lovely Jubilee what ever you are doing 💞
Written by
And you SV.....birthday girl here so I've made a 2 tier cake 1 tier for the Queen and 1 for me.mat decorated top after I went to bed 😁 off to mums for a bbq later xx

Happy birthday 🎊🥳
Thank you.i make my own cakes then I know they are milk free x
Happy Birthday SML 🤗🎉🎂🎁That cake looks yummy!! 😋💜🌈😽😽Xx
Filled with strawberries 😋. Thanks KK would rather not of had a raging uti as a pressie but hayho xx
Sounds gorgeous!!! 😋Be gone UTI..do one!! Sorry to hear you got unexpected surprise present 😔I've told it off for ya!! 💜🌈😽😽Xx
Was at the can't pee stage yesterday but gp has given me antibiotics.🤞 in the early 70s when I was little and my dad was alive we used to go to Devon on holiday over my birthday and always had 🍓 ....Happy memories xx
I'm glad you managed to get the antibiotics before this weekend..zap it!! Love Devon 💜🌈😽😽xx

Fabulous looking cake. Fit for the Queen you are. Happy Birthday lovely xxx
Thanks Cecily x

Fantastic cake! Happy birthday!!! Hope the antibiotics work their magic quickly. UTIs are so not fun. Enjoy the BBQ. Have a great day!
Birithday and healing hugs.
Thank you stuffed to the gunnells now xx
Happy Birthday SML! Gorgeous incredible cake. Quick call the Queen for Jubilee tea!😂 Best, Titters
Sadly she had other plans but I don't think her tier will go to waste ....Thank you Titters 😊 xx

Omg that cake looks fab - A very Happy Birthday to you 🎂❤️
Fabulous cake SML. 🌿🌸🦋
Apologies I misread a reply…brain fog run amuck this year.
HAPPY 🎈🎂🛍 BIRTHDAY SML
EJ 🤗♥️🥰🙏🕊🌿🌸🦋
Many thanks Honeybug .no apology required 😚🤗😜 🥳 xxx

How lovely!🇬🇧🇬🇧
Same to you svfarmer. Such a glorious day today. I love the cake Spanielmadlady x
Enjoy every moment of the Jubilee Holiday.Yes, I would love a slice of that delicious looking cake. Yummy 😋 x
Her Majesty's absolutely stunning!!!
Love her soooooo much.
My ancestors are from the UK.
Happy celebration everyone.
EJ 🇬🇧 🤝 🇺🇸 ♥️ 🙏🕊
Thanks sv for posting this fabulous pic.
Oooops 😬 missed the memo hun…
Apologies….brain fog off the charts… erased the birthday wishes from your postand put it back on again….😳😬😬😬😬😬😬🤪😵‍💫
You'd think after 60+ years of eating 'filet of sole' I'd be sick of that meal by now😆🤣😆🤣😆🤣😆🤣.
Enjoy the long Bank Holiday lovely xxx
Same to you SV 🤗🇬🇧👑💜🌈😽😽xx
Happy belated Birthday! 🎂🎁🎈🎉 I hope you had a wonderful day. That cake looks amazing. Being coeliac I have to be careful what I eat too. Fine if buying from a supermarket but if out at a tea shop it is usually a pre packed chocolate brownie, the go to gluten free cake. Enjoy the rest of the holiday weekend. Xx 👑 🫅🇬🇧
Thank you and same to you and our team here..... what a joy it has been to watch all the Celebrations..... how I miss my good ol'London town....so many memories came rushing back where the cameras were pointing to the Buckingham Palace on my way to Waterloo Station from Haymarket! Good Morning from Thailand and Monsoons beginning.....the small jelly fish have arrived this morning too!!!.....the giant ones must be on the way!
Not what you're looking for?
You may also like...
adults so she's particularly special. Hope you like her. Do hope you are all having a happy ,...