Walk in the park this morning - Positive Wellbein...
Positive Wellbeing During Self-Isolation
9,897 members • 10,016 posts
Walk in the park this morning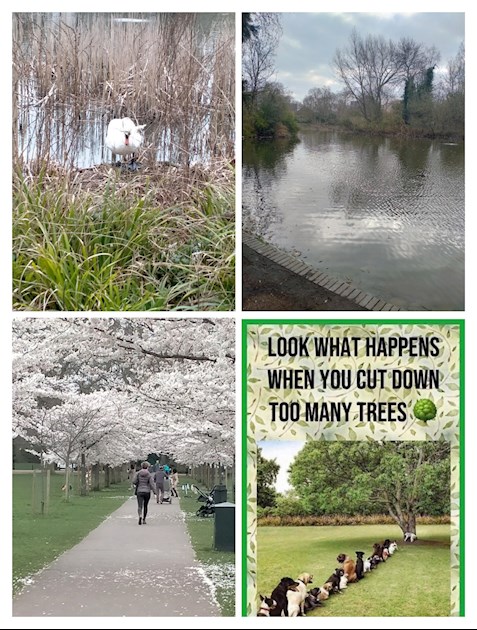 Lovely darling.The blossom looks fantastic. Is that your new bird ???😘😘😘
No she's building her nest, so some old cob got there before me ! 😁😘
Hey Maria, I've been away for quite a while but when I went to PM you I noticed your new avatar and the temptation was just too great 😍so decided to drop in and say hi to everyone👍😘
Lovely to see you back!!!! It's all kicked off on this post😁Just be warned- careful if you look at the photo of Baz as a catalogue model. Not for those of a sensitive nature🤣
Marilyn my lovely lady, hope you are well, re Maria's avatar, yes she said he reminds her of me! 🤗🤗 Be a nice girl and don't join in the baiting. Lots of love 💞
I popped on Barry because I have such a passion for JD, be it liquid or human🤣😘
I can go one better than Baz
If I was only 10 years younger😍😂
👍🥰👍
Hi.Lynne. how are you. Just having a last look on here before I try to sleep 😊🐰
HiNot good tbh, a lot of pain. Thank you for asking. No sleep. How are you feeling this morning?
Lots of love and hugs Lynne xxxx 😘❣️🤗🌈
Sorry to hear that Lynne. I'm ok at the moment thank you. As you can see , been busy with the Bazzak baiting- bless him ! Hang on,- what am I saying ,bless him?? He gives as good as he gets !!!
Sending you big hugs . Maria XXX💕
Thank you.Yes, he certainly does, he deserves all he gets 😃xxxx❤️💜❤️💜
🤣But we love him really 😁I couldn't believe it when I saw that head in the shop window the other day with Barry written on the base. Amazing how these things come up😁xxx
Jack Sparrow? A dirty unwashed pirate? 🤗😘😘
Shssh go and eat some chocolate 😘
But Maria you know he scrubs up well 😍
You tell her Marilyn 😘😘
Better than that photo of you in the bath 🤣🤗😘
I don't know what you are talking about Maria, It must be in your dreams. Come to think of it 🤔 it probably is.! 🤗😘😘
And earlier, after I took Frank too school.The top two Berkeley Square,
The gardens' very large London Plane trees are among the oldest in central London, and also a very famous song.
Bottom two Little Ben, By Victoria Station.
What's the statue?😘
Berkeley Square contains one statue, but an important one. It is a semi-draped nymph carrying a vase from which water pours to form a fountain. The statue is by Alexander Munro, a Pre-Raphaelite sculptor, and was made in 1858. 😘😘
😁don't set me off lol I'm just cleaning at mam's no reading glasses on
I was going to say, I await Mandy's reply!!!🤣🤣🤣😘
Now why do I sense you're in a bit of a naughty mood today? I bet that statue photo had no relevance except to get a reaction 🤣🤗😘😘
I am just dusting a statue at mam's think need smaller duster 😁😁photo needs enlarging to see duster think I need smaller finger too
Lol I remember the advert the old ones were the best maby doing grass next see what sun's doing think bit cold now was nice ☹️🌞
The old ones were definitely the best. Still are 😊
A treat for you 😁🤗😘
,🤣🤣This was a completely innocent post, and look what's happening.It only needs Miss Marnie, Mypester and scrumptious Scrumber to join in and it will really go downhill! 🤣🤣😘
No- you started it with the semi naked statue!!!So don't play the innocent with me darling😘 Scrumptious eh??? I've heard that used somewhere before🤔
Yes Eve to Adam, " this apple is scrumptious" 🤗
Right I'll take the bag of squidglets back and eat them all by myself 😁🤗😘
And look at all the trouble Eve caused. All the good in the world went downhill and now it's in chaos. She just couldn't do as she was told 😇
Just bear in mind he didn't have to eat the apple either!!! Typical weak bloke 😁
This is typical of Baz- always blames someone else
Think be expecting something like this lol
"Truly scrumptious "
Chitty chitty Bang Bang 👍
Hey here you are- reinforcements arriving😁🐰
Can't let the side down can I 👍
All we need is Marnie now 👍😁🐰
Come to think of it this looks like you know who don't you think?
Dick van dyke, Chitty chitty bang bang
Yes now you mention it. Although the hair looks like mine at the moment 😁🐰
Mypester, you know you will pay for this in the end!😁😁😘
Red faced at his lockdown hair ☹️
I'm innocent I was just showing how busy cleaning I am and what a thorough job I like do on all them fiddly diddly bits on mam's wonderful ornaments I have to do dad's crocodiles next 🤔😁the tails are very dusty and long I think I'll be here sometime this cleaning is very time consuming 🤔😁
Hi Mandy. I can see u did a wonderful job at cleaning 😂. The one to the left or to the right took you the longest time to clean? 😅😘
😁😁well one I had bit of performance with as its tail end is stuck on lol
U re one talented lady Mandy 😅😘 Glad you got your Cheerio self back 🤗 I gotta go run some errands, ttyl❤️❤️❤️xxx
Ok me too catch up soon 💛🧡💛😁xxxx
🙈🙊🙉
Three Wise Monkeys
Mmmm that's up for debate !🤣
Here I am 😜. What have I missed
God no !😩😘
Yesss! You're outnumbered Baz old boy l😘😘
Hi my dext I'm busy doing housework and now I'm doing the laundry the grey pixie pants almost burst out the laundry basket 😊expect the unexpected 🤔😁
Oh not those things again. I thought the last remaining pair had been thrown on the fire🙉
I've just ironed them with starch they've gone real stiff 🤔do you like this kitten mam got me last year for garden there's a big one and small one I think I'll call the small one 🤔not sure any suggestions 😁
I've got a similar one of a rabbit
There's all sorts here this is from dad's house it was from our family home from 4o plus years ago dad kept everything don't know what to do with all the stuff tryner sell on Facebook some people collect stuff like that not sure if art decor
Ooh love the rocking horse 👍. Are you selling it 🤔
Not sure about the horse that's mam's she has a very old wooden wallaby that was her toy 🤗I'm turning over new leaf no more hording I can't stand stuff all over, I'm getting rid of pots don't need too at moment most my stuff's still in mam's loft I used to like false flowers I probably won't be able to get rid of them, I might ask mam if I can have her ornament for my bedroom LOL 😁😁then I can have sweet dreams about me B 🤗😁😁
You could try e bay . It's amazing what people buy
We don't do eBay they charge I've sold lot of silly things on Facebook market place local dad's got some good quality cycling shirts and jackets he had all the gear some cycling fanatics collect them, mam's got lots of old annuals too from when you used to buy and sell at car boots it used to be our job, I've sold stuff of skips surprising what good stuff people throw out, I'm just waiting for pixie then off home have good night 🤗xx
Always 👍😘
Hey girls I've just had a thought. Have you noticed how he always posts things which are guaranteed to get responses from us. Which means lots of replies, likes = popular. Sad isn't it poor guy 😁🐰
Some men are like that. They crave female attention 😊. Not saying that Baz is of course 🤣
Not much he isn't 🤣
Well. As yet I'm not well acquainted with the size of his ego 🤣
Remind you of anyone 🤣🐰
Yes, he used to be a model you know 😀
I'd better stop being mean to him while he's not here to defend himself 🤣🐰
I can hear you !!!😁😘
Oh you're back again are you 🙄😘😘
Yes you know you love me 🤣🤣🤣😘
You've only posted that photo because you want those who haven't seen it before to say how gorgeous you are🤗😘😘
Who me!!!! 🤣
What ? You're gorgeous? Or wanting people to say you're gorgeous? 🤗😘
Aah. What a vision of loveliness. Is that a current picture? It seems to be in sepia 🤣🤣
No not current, last week sometime 🤣🤣😘
🤣🤣. You haven't aged a bit
Sepia 🤣 Vision of loveliness???🤔
You know you can't resist me Maria 🤣🤣🥰
You're right, I can't darling 😍😘
Time for an eye test maybe🤔
Mypilker, your cards are really marked now!;😁😘
You're wasting your time-threats won't work. She's clearly one of the Baiter gang😊😘
I am, four against one ? Or is it five, I've lost count 😜
Be who you are and say what you feelMy pester💞
And those who matter don't mind
I don't mind darling 😁🥰
Six I think . Scrumbler's joined us. No - eight if you count Niao and Narwhal ( Charlie) although they're not around at the moment they're still Baiters 😁
Ignore him- he's trying to get into your good books with his silly flirtatious comment.
I know I'm late but you started it!!!
Wow,that's a lot of blossom, what a lovely park😊
Love the dog queue. What a great reason for saving trees! 🤣. A lovely walk and some great pics. Thank you!
Look what I bought today 😘😘
🤣 I got one of those meal deal offers and it was either these or cheesecake and I don't like cheesecake 😁Share them ? Me? With you?🤔Don't forget it's likely to end up on the stomach as well 🤣🤣🤣😘😘
Not what you're looking for?
You may also like...