Chuckle 🤣: This post came up on my Facebook and... - LUPUS UK
LUPUS UK
28,761 members • 25,158 posts
Chuckle 🤣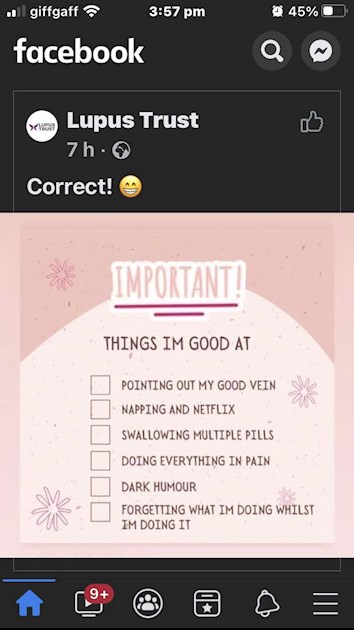 This post came up on my Facebook and gave me a right chuckle - it's me all of them 😂💕
Written by
😂 pointing out my good vein! And yet a lot of people still miss it and I'm really not difficult to bleed 😭😂
Very sadly true about doing everything in pain, I would also say we are masters at adapting things in our lives due to this!

I haven't even got a good vein 😂💕 and yes your right we are masters at adapting things in our lives x

Always one who has to be awkward isn't there?! 🤪😂
Ha ha yes I can relate too. Thanks for the chuckle much needed. I hope that you are recovering well lovely? Xxx
I'm doing ok but fatigue is through the roof - have a lovely weekend xx
😂😂😂😂😂😂😂😂 Sad but all are true
Maybe we should have the autoimmune olympics except the whole ordeal would have to be inside. The final competition would be who can stand in the sun the longest without passing out.

😂🤣brilliant xx
Oh I am so sorry. I can empathise I feel as if I have lead boots on currently. Rest up and have a relaxing weekend too xxx
Lmao so so true apart from napping and Netflix.Mines napping and amazon!!!
😂 🤣 🤣 😆
Thanks for that. Iv had a wrotten day.
You have just made me chuckle so thank you.
🤗 🤗 🤗 Xxx
I can add forgetting what i'm saying mid sentence to the list

😂😂 yes I also regularly do this - I find it most embarrassing x
😹nearly all!! I'm not so good at swallowing multiples of pills though!! 🤢Thanks for the chuckles sv 🌈😽😽xx

😂💕
🤣🤣 I can relate to all of those, and just as well we can laugh about it eh? 😂 Thanks for the chuckle SV. Glad to hear you are recovering well and I hope the fatigue eases soon. 🙏🏻 I tried some iron based tonic from Holland & Barrett last time my fatigue was overwhelming (following the recurring nosebleeds until both nostril were cauterised) and it really did help give me a bit more energy. Enjoy your weekend SV and give Mira and Bea a cuddle each from me. 🤗😘xxx
Thanks so much Spotty- your nosebleeds sound awful and thankyou for the tip on the iron based tonic, I live very near to a Holland & Barrett so will be checking that out - my sister is holding a birthday curry at her house today for Connor ,s 30th , my eldest son is coming down from London so it will be lovely with all the family getting together - hope you have a lovely weekend xx
Yes, the last nosebleed lasted 40 mins and ended with me having to be taken to A&E where they cauterised the offending nostril. So far no more and I hope it stays that way.🙏🏻 I've attached a picture of the tonic as I've decided to keep one in reserve for whenever the fatigue is crippling.
Happy 30th birthday to Connor! 🥳🎈🎊🥂🎂 I hope he enjoys his special day with all his family and I hope you have enough energy to enjoy it without over-doing it. That is lovely of your sister to hold the special event at her house to remove the workload and pressure from you. 👍🏻👍🏻 I hope you all have a wonderful time. 🥂 And I hope you'll all get to Center Parcs in the not too distant future as a belated treat. When it was my 60th (6 years ago) I celebrated all year until my 61st the following July! 🤣 So I hope Connor has a super year too and lots of fun! Enjoy yourself S. 💕🤗😘xx
Thankyou so much - I love that you celebrated your 60th for a whole year 😂
Yes my little sister, she was 50 3 weeks ago 😂 has been absolutely amazing - she is just the best sister and my mum is amazing too - we are all very close xxx
That is wonderful that you, your sister and your Mum are all so close.🥰 I'll be thinking of you all and hoping you have a fantastic time! Xxx

That is terrible. Take care.
Healing hugs.

Thanks Pumpkin. Big hugs back to you. 🤗😘xx
😂🤣😂🤣😂🤣😂🤣
I hope you're getting stronger day by day
🤗❤️🤗
Love the post and glad to hear from you. I am sure the fatigue is like a big cloud, but gradually it will start to lift. Just be gentle with yourself. You have been through a lot.
Healing hugs.
Not what you're looking for?
You may also like...
public areas. Sadly there are a lot of tossers all over the world.
I grew up in Australia until...