When lockdown is over (if that ever h... - Positive Wellbein...
Positive Wellbeing During Self-Isolation
9,716 members
•
9,825 posts
When lockdown is over (if that ever happens)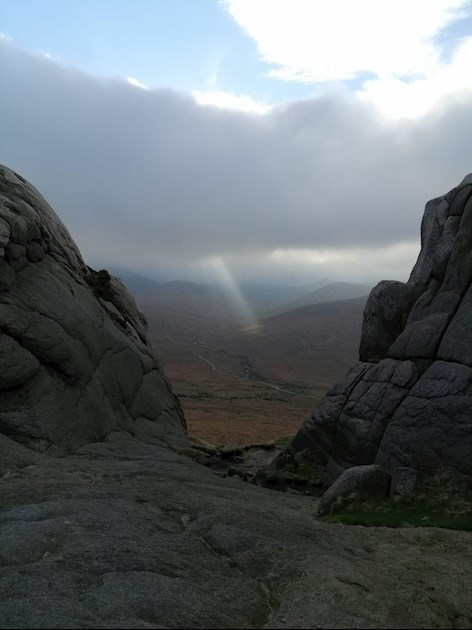 What is the first things that you will do?
Haircut and lunch out for me ..
Mountains the next day if possible..

Pub for me. Will have lunch there too ha ha. Then a haircut, then clothes shopping. Ooh can't wait.
i cant wait either, my lunch will of course involve a few beers


Of course! ✌😂
Haircut, cuddle from great-grandchildren, pub lunch. 👍
I think we will all be needing our hair cut lol
Decided to grow mine last time I had a trim. Really really wish I hadn't.
I got mine cut very short last time just in case... but another 4 weeks or so until it gets cut... Not good!
Lucky me, being a retired hairdresser I've cut mine and my OH s hair for years so no worries there.
.I'm looking forward to going out for a meal or to the cinema , and hopefully to go see a musical on stage., and most of all to be able to go away for the weekend somewhere by the sea😀
I love the picture 👍
Hi I cut my own doesn't matter as it's curly I think some of them TV stars look better doing there own although some not Kim Tate on Emmerdale has big darkie grey roots bit like mine lol only did it at Xmas xx
We have a mobile hairdresser who is our friend as well, she will book us in as soon as she's allowed to. It's been a nightmare for her and everyone else who work for themselves because what they are given off the government is nothing really. Xxxx❤️🤗💜🤗🌈🌹
Thankyou.
It must be handy being able to cut your own..lucky you!
Sit on my front doorstep, relaxed and breath the fresh air, watching my neighbours pass bye again, nothing exciting.🙂🌈
It would be nice to do that, a cup of tea in hand.
Me too Jerry nice photo Jim Tom interesting sky I like to watch clouds one of the things I'd really like to do is go swimming and get my health and mind back on track as it's a good all rounder and very meditative in the water there's a glass roof and when sun's out there's rainbow reflections in the water not sure how I'll take photos in there tho LOL took one other day of the leisure centre there's a cafe too so think I'll treat myself to lunch tea a chip butty lol
The photo is on Hen mountain in the Mourne mountains, its my favourite place.
Swimming would be good.
What we saw of island was nice we went on a short cruise around Britain popped to Guernsey I'm at my house just came for wellies and phone charging it never stays charged long once I get on here the wellies were slodging and hurt foot so I'll have to did my smaller ones out shed probably full spiders lol I looked in on mam to say bye she had nodded off been more positive today tho said she will relax when next Friday comes as be 3 weeks since jab said at least viris won't kill her if she gets it,I'll take some photos of my muddy walk lol if get phone charged I'm just doing bit washing in sink as washer was tested after moving sink and pipes not filling up we used to do our own d I y but can't be botherred now I kept my dad's old spin dryer lol so I'll bring it in out shed and use it, talk about going back to living in the past what with the other problem lol won't go into that just glad didn't sell my house 🤔🤯enjoy rest of your day 😁check out marnies cat post from last night if you fancy a giggle 😁
I have become a strong subscriber in the idea that things work out the way they do for a reason even if we don't understand why at the time.
We have to believe in fate I gone all goosey now I saw white feather and a dog's collar with name honey think.its a sine from my dad my new dog be called honey xx
Why do we have to believe in fate?
I have evidence of spirit world and astrology it's good to have faith it keeps me going
I asked about fate not faith.
I will still be playing it safe! The vaccine is a start, but not the whole end game. Just being able to have my close family around me will be enough for me for the time being.💕💕 xx
Yes I think it's going to be a long time for it to be anywhere back to 'normal" if it ever will, we will have to always be on our guard as you say the vaccine isn't a "cure" , but hopefully we'll be able to do more and more things once lockdown is eased👍
Yes and if we do get the virus it will be to a lesser degree because of vaccine 🤞🤞xxxx💜🤗❤️🤗🌈🌹
I will still wait a while I think, just to be on the safe side. After that, a hair cut. Great photo by the way.
Thank you.
I think there will be a queue at the hairdressers/barbers maybe it would be better to wait until it quietens down.

Yes! Really lovely 💕 xxx
Going to see Ian and Chantelle , Mike will come with Alannah who he has missed so much. Hugging everyone. Haircut. Meeting up for lunch and a natter. Also let's see if we can all try and meet up at some point. 👍🌹😊🌈
Where shall we hire Lynne, The 02 🤣🤣
Meeting up with my best mate who I haven't seen for over a year
Its crazy how long we have gone without meeting some people we know very well.
Absolutely. I remember the last week in Feb last yr. Went to a craft fair, a gig, took a close friend out for lunch, met up with my best friend for shopping and a meal- then that was it! Just been on the phone over an hour to another friend and we realised how much we've missed each other 😒🐰
I've spoken to four family members in the last year face to face, haven't seen a friend at all.
Roll on the end of this..
I am sure that lockdown will end in stages... so we may not be allowed to hug anyone until a month or two after we can go to the cafe or restaurant for lunch.¿Haircut? I DIY, and I have not trimmed my beard since August - I am waiting for some warmer weather!
Is a certain politician sporting a "muppet" hairstyle in sympathy - or is it a permanent stylistic/fashion choice?
I definitely think that haircut will be for me too Jimtom. I managed not to fret about mine in lockdown one but it's much harder to ignore it this time around.
It will have to be done 😀
Hi Jimtom! Amazing and beautiful mountains, these Mourne Mountains! Had to look that up! ⛰️🌄🙏Need a haircut, get my hearing aids renewed, and new specs I need urgently! Hearing aids are priority, as one of it broke last month!
Specs, yes need my eyesight checking again!
Haircut if I can afford that afterwards, as frames and glasses can mount up to £350! We shall see!!!!! One step at at time 😁🤗🙏🌄
Yes those mountains are indeed beautiful, thank you.
I might go for new specs too, is it hard to get new hearing aids?
I paid a lot of money for my last pair of specs and list them 2 months later 😖
Have a good day. 😊
Hearing Aids are from the NHS, so no, don't cost anything Jimtom! I wear my specs all the time and go to Specsavers here in my city, Ripon, North Yorkshire! Apropo my sons love hillwalking and 2 of them go snowboarding or skiing! Sadly not possible now during Pandemic! My 3rd youngest went to Tignes, 2 years ago, and he so enjoyed that!
I can ski and ice skate but due to vascular disease in my legs, even fast walking is a problem! Used to very fast!
Had heart attack now nearly 2 years ago, 2 Angioplasties, 3 stents and legs started cramping in my left calf! It was horrible!
13 cm blockage in my femoral artery but no suggestions of stenting this! I would have been at least another 2 months of work as well!
I was sad Jimtom that the consultant said it's not bad enough to operate! Hope they are not waiting for people's legs to go snow white, lack of circulation, until they will consider! It's greatly inhibiting me to walk longer then 30 mins in this cold weather, summer is better but I have to avoid full blast sun and our restaurant kitchen is boiling in summer!
Anyway better stop! Hope you had some snow to enjoy lately 🤗🌄👍😁
You sound like you kept fit but still ended up with health problems, I hope everything gets sorted out for you.
Your sons sound like they enjoy themselves, you can't beat a day out hiking.
I have been to Yorkshire a couple of times, once stayed in a village called Kettlewell, it was really nice.
We got a sprinkle of snow last night, hopefully more to come later on.
Yes go to Specsavers! I find them really good! My prescription is always excellent 👌☺️
That's where I go, it's less than 5 minute walk from me.
Thank you.. 🤓
Well it's not far for me either but will call them to find out if I can get my eyes checked in lockdown! My frame has to chips as well and I do need new ones, my glasses have couple of scratches, so yes comes with my job as kitchen porter I suppose 😁😁😁
My glasses are scratched too so they need sorted, I don't think our specsavers is open.
You need your glasses for that job 😀
Well Jimtom I need my all the time 🤓😆For reading and distance, and got a lazy eye, from birth on I think, so I need prisms for both eye to rectify that! But it's not severe! But found focusing on a line difficult when doing crafts! Ha well, age 😂😂🤣🤣
Age is great 😏 I got verifocals then lost them, I didn't really like them anyway. Without glasses I can't read at all 😀
Thanks for the chat Jimtom 🤗😁😁👌
Not what you're looking for?
You may also like...
and the response by governments.) Pic: So, at our first outing playing petanque, we celebrated....