On my hands: Have these bumps on top of both hands - MY SKIN
MY SKIN
7,079 members • 1,682 posts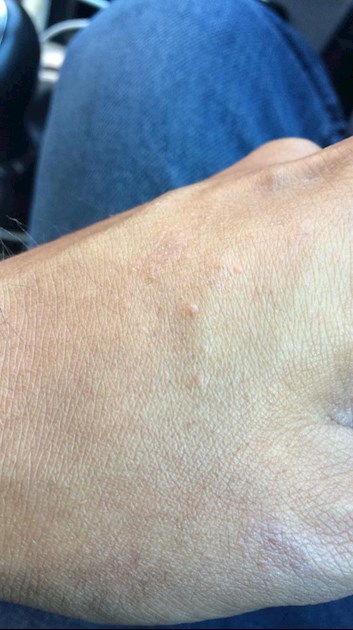 Have these bumps on top of both hands
Dear Jaja12,
If you GENTLY remove, pick off, the tops do you get a ', bit of, clear fluid'? Thought so! They are small 'Sub Cutaneious' Cysts. Nothing to worry about, unless they become Inflamed- or infected.... maybe 'lay off', the Picking!
Do 'just check', with your 'Team'- or the Local Pharmacist, often a Very 'Overlooked' Resource....Pharmacist are Very 'highly qualified' people. However I'm Ninety- Five, or more, percent certain.... I get all manner of 'Lumps & Bumps', so I should know!
Do check bit Don't Worry....
AndrewT
Not what you're looking for?
You may also like...
but not top of hands or fingertips. Each time it spreads further. Now also get a patch on top of...