Bit stormy today : ❤🧡 - British Lung Foun...
British Lung Foundation
50,495 members • 60,498 posts
Bit stormy today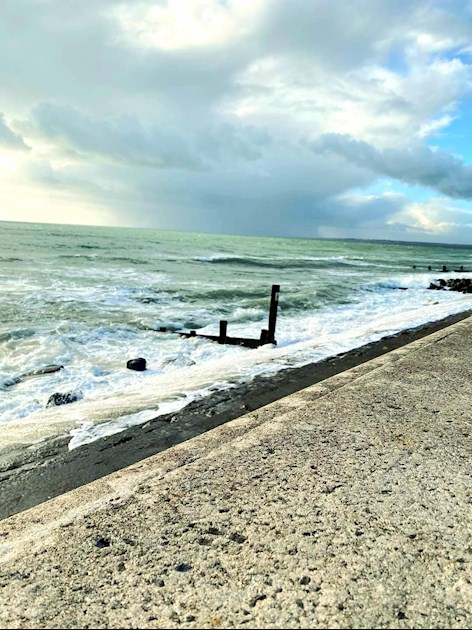 Written by
Brrrrrr.

Was a bit but just lovley ❤
Did you and Stan go for a swim? …I'm saying this in jest but you'll probably reply 'actually…'
Actually yes earlier before the storm started it's been pretty rough today I think ❤🧡

Beautiful ❤️ have a good night and take care 😊 Bernadette and Jack 🐕 xxxxxx

Thank you both 💓
Just look at that sky! Amazing photo, thank you Bb8. Xxx💜❤️💜💙

Thank you lovley Carol always too kind 😘
Hope Stanley stays out of that. xx

No we were both in much earlier today 🧡
Thanku for this BB.love to watch stormy sea x

Your very welcome ❤
Wow can smell that sea from a stormy and snowy Scotland. Love the photos xx
Hi Delamere we had a smuttering of snow for about 5 mins yesterday that was it .. I remember being raised as a child in Glasgow the winters were proper winners ice on the inside of the windows 😌😍
Hi we still had that at the cottage last year until we managed to get heating sorted out when l look back don't know how we managed ! Had lots of laughs though 1st up best snuggly blanket for cuddling on sofa would have been so much easier to buy another blanket x
Coats used as top blankets I shared a cupboard bed with 5 sisters I'm the youngest of 13 so knew what it was to go short 😂 putting dusters on our feet to clean the lino floors with polish made a skating rink sliding up and down ❤
Oh my what a busy house that must have been .l still put dusters on my feet and shuffle around on our wooden floors no wasted energy here x
Wow BB and I thought I was hard done by being the youngest of 4 girls and dad poorly with lung problems meant we knew what it was like to go short too, having said that I think we had a happy childhood thanks to poor mum running round like a loony x
My mum was a Saint 8 girls and 5 boys we never went without that I can remember hand me downs we didn't care ... we always had plenty to eat veggy patch big garden 😋
Mums were, everything had to be made from scratch and washing days must have been a nightmare, we had a mangle and a board and my mum worked full time as well. God love them dont know how they did it x
I remember Monday wash days the washboard with fairy soap for shirt collars ... the mangle was a creation in itself ❤🧡 yes my mum worked a lot also when we got older ... my dad was a foreman plumber for the council x
Ooo! That looks chilly. I hope you wrapped up warmly and kept Stan well away from the water. xxx
No we went for a swim lovley it's refreshing 💛

Brrrr! You hardy lady. xxx
Wetsuit so not that hardy 😁

Omg!! Yr brave! X
What a great place to walk, lovely and fresh x
Just a tad fresh for the swim 🏊‍♂️
Wonderful and terrifying at the same time to watch a stormy sea. The storm was kind to us as it swept all the fallen leaves to one side of the garden. Made life easy to pick them up. That's our 2nd full bin Quite a few more to go ! Xx

It was bad here for an hour or more but nothing detrimental happened 🧡
Great photo BB. I just cant get my head around you going for a swim in that cold sea, you are brave, maybe warmer than the North Sea up here??? Do you swim every day, keeps you fit? 🥶xxx
Not every day just when I feel the need about 5 or 6 times a month in the warmer months whenever possible it's a great way of getting and keeping fit 🧡 wetsuits are standard x
Even then you are still brave xxx
Not what you're looking for?
You may also like...