How we roll when it snows and sleets 😂 - Lung Conditions C...
How we roll when it snows and sleets 😂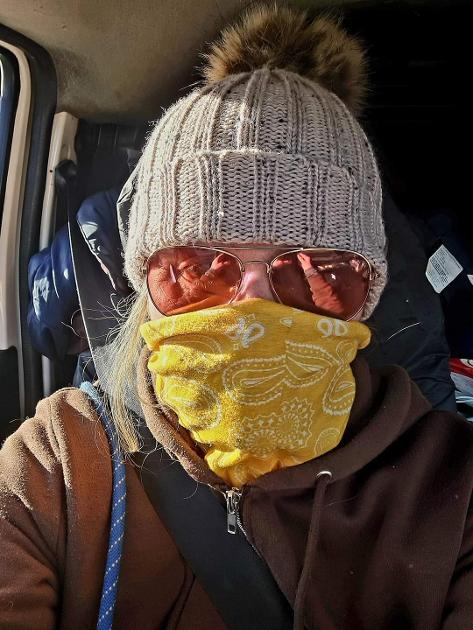 Written by
Glad to see you're protecting your nose and mouth from the cold. 🙂We've had a snow shower but it's not sticking, just wet and cold here.
Same here the wind is bitter at home now had a hot shower dinner and resting with heating on which is a very rare occasion 💜💜
Don't blame you Bb9, You're very sensible indeed. No snow here thank goodness. Xx💜❤️💕
We had sporadic falls in the night then sleet rain and biting winds today got to pop my snood on when windy my face gets so soar in the cold 🥶
Bet Stan wonders who you are 😉
He was grounded today from big walk too cold and wet outside... the damp gets his bones he had a little mooch with me at 6 this morning 💜💜
That's what I was thinking CDPO16 - BB could be almost anyone! x

I'm a bank robber in disguise 🥸

Warmer still, though driving could be a challenge…
😂😂😂😂

That looks just like me in my new furry pj's ! 😂
😂😂😂😂😂
All my friends think 🤔 I look ridiculous 🙄 when I wrap up and go out. Actually it's a good excuse not to talk to anyone. Downside is, ain't got any friends no more! 😒😒😪😪

I'll be your friend! 😊

👍👍🙂🙂🙃🙃😀😀. xx
Oh my goodness we are all your friends on here 💜💜
Blackbird9 You are brave to be outdoors with weather as cold as that. Good on you for your snow gear. 💕
Very much needed winds bitter ... at home now 🥰
YAHOO! 🤪🤪 Thanks Blackbird9 😊 So good to know friends, my lung buddies are always there and understand. Enjoy your day. Dawn.xx 🥰
😂😂😂 and stay happy we are here for you ❤️
Bitter cold here and snow forecast for later today. I can't cover my mouth without feeling smothered, had a visor instead during the pandemic but then I don't have to go out unless I want to. x
I generally start off like this then everything gets taken off cause I get too hot 🔥 🥵
👍Love your hat! I have to make myself go out when it's really cold. As my friend says to me "tread boldly" ........🙂❤️xxxx
I'm not a lover of hats but it's very bitter winds at the moment and then it rains roll on spring and some warmer days 🥰
Is that really you under there, Blackbird? Looks like you're equipped to tackle Everest. 😊😊Love to you and Stan xxx
If only Everest was a possibility 🤔....its all me and some padding..love back from both of us 🥰

I'd like to find a small mountain to walk up, just to say I'd done it. The Lake District looks a possibility. it would be very slowly with lots of stops. 🤪🤪🙃
If its a wish or a dream to do it and you're determined do it for a charity maybe lots of stops necessary 🥰
Thats the way to do it BB x
I now have visions of punch and Judy stall screaming that's the way to do it sorry 😂😂😂

Ha! ha! ha! 😂🤣😂 x
You're in a wicked cold snap! Stay bundled up! I get chilly just thinking about it. Warm hugs to you and Stan!
It's milder today but just raining 🌧 😐
Snow isn't sticking here yet but bitterly cold. That's how I go out minus the glasses xx
It's just horrible rain now hasn't stopped really in 3 days 😬

We're now getting snow that is sticking a little. Only a thin coating Bitterly cold. X
We have been dry today so far hopefully will stay that way have the grandkids this weekend 💜💜
Not what you're looking for?
You may also like...