Bit choppy today Milford on Sea 🌊 - Lung Conditions C...
Bit choppy today Milford on Sea 🌊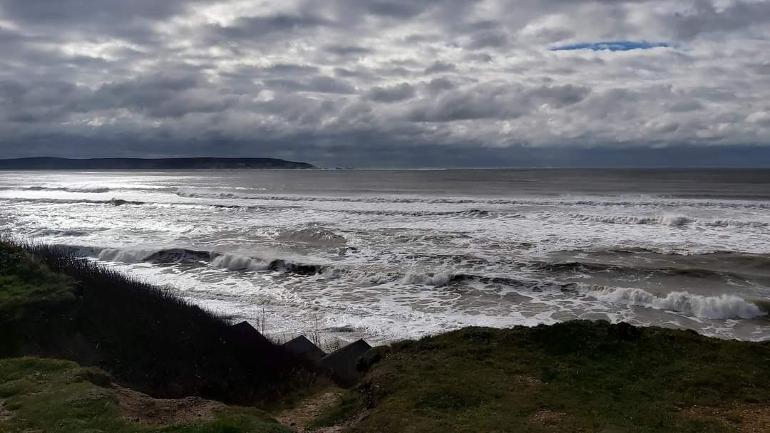 Written by
A real wintry scene Bb9. Lovely to see thank you. Xxx🥶💕💜❤️
Very fresh today why we went for a beach walk I don't know 😂😂
Appropriately wintery looking. We still have snow up north.
Haven't saw any snow as yet but have a feeling it won't be long 🩵
🥰🥰💖💖💖What lovely white breakers- at least to look at indoors.
I do love the sea ... need the summer now had enough of this weather 😩
lots of clouds .like looking at cloudsbut i did not know that there s ia acloud appreciation society who can tell you what these clouds mean weatherwise and how theuy are formed. actually it is quite interesting. a friend forwards a weekly one to me. Before i have enjoyed looking at clouds, but now there is much more !
I took Meteorolgy in college. It is all about the clouds,great if u can take this .
I love cloud watching 👀
crikey i wouldnt want to be on a boat
There was no boats I could see 😊
I love the ocean and was on several ships in my lifetime. loved it.
Hi lapis, were you working on the ships or just on holidays ?
my first holiday on a cruise ship involved the pentland firth, north of scotland on our way from the clyde to norway and it was rough. I felt sea sick and missed dinner but then friend went to wardrobe and found the clothes were getting wet ! so we had to remove all the clothes and we then found water running down the wall . that cured seasickness !! I looked into corridor and there was water in pools in corridor. oooh -----first trip out to sea not good .
phoned reception and it turned out they were flooded , something had burst in the movement of the ship a nd were not at all happy when we phoned .t he y had a problem there and the water was coming from them . not good on first cruise even if I was used to sailing boats and getting wet . . Wasnt expecting that at all .! got £50 off too in compensation ..
No, my dad was in the Navy. So we were on military ships a lot going back and forth to Japan and Hawaii. But about 1965 another girl and I hitchiked all over Europe and n africa and more and took 4 frieghters!!! Turkish, Russian, Yugoslavian and one more. Nothing fancy tho, no amenities. we were in the bottom part of the ship w no food and the crew fed us. Helped to be young and pretty then, Now at 78 I could never do that again!
we were gone for almost a year!!! best time of my life. l love the sea and love to swim and miss it so as i have an iv hooked up to my port now w antibioitics plus i cannot afford a gym where i could swim. I am in California..Sacramento , is in a valley. no ocean.
Very dark and ominous looking sky there BB, hope you didn't stay out too long. The weather here in Manchester was beautiful yesterday, I even managed to pull up some weeds but has gone back to being a dull wet morning today. I dont mind if I can have a little sunshine on the way x
This crazy weather 😒 normally here at this time babies are being born plants and Heather's on the forest are starting to colour ...but nothing it's so wet here 🤣
You (and we, here) have a very stormy night and day ahead. This evening is time to batten down the hatches!
Windy last night but blue skies this morning god knows how long it will last
Very atmospheric 🙂👍. Is it a bay or is that an island in the background? 🏝️xxx
It's the end of the bay it's like a horse shoe shape 🥰

Aw lovely 🙂❤️xxx
We've had it all this week, biting cold, brilliant sunshine with a hint of warmth, a snowfall that was gone by lunchtime and now our usual damp and grey outlook.
I just need summer ☀️
A not too inviting sea there. Roll on sunshine and warmth x
Exactly that 👏
Great photo but Bbbrrrr just looking at it makes me feel cold 🥶 roll on summer 👙😂 xx
Is your body bikini ready 😂😂😂
It's getting there …. has been for the past 30 years 😂 Tbf I've never really been overweight and I've just shifted 10lb of winter padding but my exercise regime leaves a lot to be desired - currently managing about 30 minutes …. Per month 😂 . xx
Not what you're looking for?
You may also like...