Hi im late period by 6 days does this faint line look ... - NCT
NCT
44,657 members • 15,173 posts
Hi im late period by 6 days does this faint line look positive to you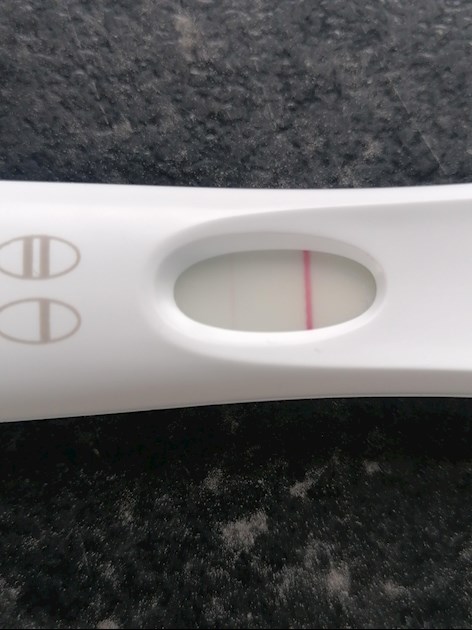 Hi im late period by 6 days does this faint line look positive to you
Looks positive to me. Congratulations
Yes that's a line, you don't get dye run with pink dye tests so that definitely looks positive to me. Mine looked very similar and just got darker and darker each day (I did about 20 tests because I just could not believe e it 🙈) congratulations xx
Awh thank you its probably just such early days been trying for awhile so was just wondering was ot a definite positive x
I did a couple of these pink ones and they were much fainter, I tested on the day I was due on, my husband thought I was going mad, because I was holding it up the light and squinting and was sure I could see something and he couldn't. After I had a slightly darker one I then did a digital test and it came out pregnant which he couldn't argue with then.
Oh stop really typical man though women know their body's lol
I think he was just shocked I was pregnant, it took over a year to get pregnant with our first and this time round we did it the first month of trying. I'm not sure he was ready for that 😂😂
Hey there, given 6 days late it does still look very faint. Unless of course the dates are slightly out and you're not as late as you think.I'd test again in the morning with first urine and see if it's any darker. Good luck!

Thank you will retest tomorrow morning just to be sure
I bought a digital one from clear blue x your test looks positive to me but if you get the digital ones you'll know for sure and how many weeks you are xx congratulations xx

Thank you i took another test this morning i think its a definite positive x
Yep! That's exactly what mine looked like with my now 10 week old baby boy!
Test again in 2 days with same type of test and compare the line, mine got darker until it stole all of the dye from the control line!
Congratulations 🥳
It looks positive to me. I got same faint line on mine (bought from poundland, pack of 5 strips) but at the same time I had early symptoms of nausea, headache and fainting. Showed it to my gp she confirmed its positive.
Looks positive congratulations!!
Not what you're looking for?
You may also like...
result! IHowever I have noticed a very faint positive line, could this mean I am pregnant but the...