Blood results: Any advice welcome. - Thyroid UK
Thyroid UK
120,440 members • 140,211 posts
Blood results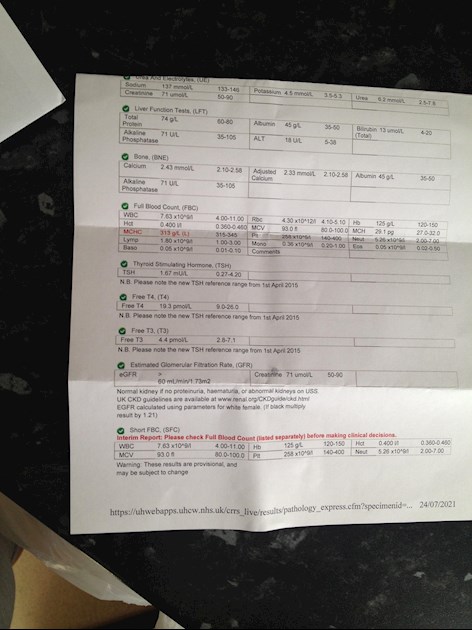 Written by
FT4 19.3 (9-26) 60.59%FT3 4.4 (2.8-7.1) 37.21%
Well, you're under-medicated. Most hypos need their FT4 higher than that - at least 75% through the range. And, it rather looks like you're a poor converter. Your FT3 is much too low - which accounts for your high cholesterol. Trying a 25 mcg increase in levo might help, but you're probably going to need the addition of a little T3.
Was thinking about gut health and my age . I supplement with healthy bacteria but obviously still not converting enough. The professor in charge of my thyroid health isn't going to change dose or add T3 from those results.
What can I do to check gut health and increase absorption, do you think a suppliment of pepsin am HC would do the trick or in the lon term make matters worse.
You don't have an absorption problem. You have a conversion problem. That has nothing to do with gut health.
On the other hand, nutritient levels should be checked to make sure you're absorbing those correctly. You could have low stomach acid - most hypos do - which would make digesting food and absorbing nutrients difficult.
Other than having the variant DIO2, which has came back that I do not have the variant, what other conversion issues are there.Could stress be the answer?
It could be stress. I could be a thousand other things. Low nutrient levels, for example, which is why testing them should always be the first step. If you have Hashi's - can't remember if you do - then just having Hashi's could cause you to be a poor converter.
Yes I did have elevated antibodies, TPO I think, was a long time ago now.
Just found some info about thyroid hormone resistance but I'm lead to understand that treatment with standard T4 is the solution?? Not sure if I'm not understanding 100%. The article mentions that even with DIO2 testing it's doubtful all variants would be known? So may still have a variant. The article mentions something new to me ,"TRIAC" that can mimic thyroid hormone and work in liver and pituitary for those who are thyroid hormone resistant.
In your opinion is there any benefit to tirosinct for poor converters? Or liquid solution. Or would only T3 be beneficial .
Too soon to tell…..considering your TSH was sky high few weeks ago
Allow 3 months for thyroid levels to settle
Get all four vitamins tested and supplement to optimal levels
Trialing strictly gluten free diet always worth trying too with Hashimoto's
Retest thyroid levels correctly - early morning test, before eating or drinking anything other than water and last dose levothyroxine 24 hours before test
Once you have had over-range antibodies, it means you have Hashi's, and Hashi's doesn't go away. Even if the antibodies reduce - because they fluctuate all the time, you will still have Hashi's.
Resistance to thyroid hormone needs to be treated with T3, not T4, as far as I know: high doses of T3. But, I don't think you have that because with RTH, FT4/3 levels are high, but so is TSH.
I don't know a lot about tirosint, but I believe that is for people with absorption problems - it's better absorbed - and those that have problems with fillers, because it has less fillers than other brands of levo. Same with liquid T4 because there are no fillers, but it still contains something - forget what - that some people don't get on with. I really don't think either of them would improve your conversion.
Ok, thank you for your time and replies.
You're welcome.

Thought this might interest you:
naturalendocrinesolutions.c...
Yes very interesting thank you. It was Dr Eric who made me start thinking about my gut health and re think my diet which I have done several times since then. I do well on strict keto, I think Dr Eric likes the paleo diet.
I'm a bit too tired to take in much at the moment but after a quick refresh as far as I know I have no tumours or didn't when I had my MRI several years ago so I probably just over exercise and still stress too much about things I can not change although I have reduced most stress factors you can not stop outside stressors.
Over-exercising could do it, yes, because it uses up so many of your calories - like being on a diet. And, you need calories to convert.
when I was over exercising I would consume plenty of carbs, usually the wrong type like breads and cakes.T4 should of had plenty of carbs to use.
Well, it's not the T4 exactly. The T4 IS converted, but it doesn't do the converting.
So, you don't over-exercise anymore? I got the impression you did.
Is it that ATP stuff that needs the calories to convert?
My gym closed its doors two years ago and most of the instructors I liked to work with retired so haven't really done much since. Did a bit at home but I like group exercise really. My daughter and her husband also brought me an electric bike as I was always aches and pains so now I use that and maybe go for a real cycle ride once a week or two if I'm feeling fed up but usually live to regret it.
I don't know what ATP stuff is, but every function in your body needs calories - breathing, digesting, heart pumping, etc. It's just that conversion is harder for hypos and takes more calories.
If your FT3 is low, you must be very careful not to over-do exercise because you will be more fragile and recover more slowly that people with normal levels of T3.
en.m.wikipedia.org/wiki/Ade...
journals.physiology.org/doi...
I used bio available ubiquinol and my energy levels were amazing.
Didn't do anything for me. But, in any case, it can't replace T3, you still need optimal levels of that.
My T3 levels are what they are, low range and the NHS say no to giving any T3, ubiquinol makes a huge difference for me although I can not afford to buy it all the time as it's expensive.

Was test done as early as possible in morning before eating or drinking anything other than water and last dose levothyroxine 24 hours before test
How long on current dose levothyroxine
Low MCHC
No folate, ferritin, B12 or vitamin D results
As stated previous on different post, bloods done during mid afternoon.
On current dose approx 5 plus weeks maybe more.
What happens next about low MCHC ?? The professor in charge of my thyroid health did not mention any actions.
He sent form to check D in October
You personally need to test Folate, ferritin, B12 and vitamin D
Recommend getting full thyroid testing done at same time too
Only test after 8-10 weeks on unchanging dose and brand of levothyroxine
What vitamin supplements are you currently taking
Make sure you test as early as possible in morning before eating or drinking anything other than water and last dose levothyroxine 24 hours before test
Only test early Monday or Tuesday morning and then post back via tracked postal service
Come back with new post once you get results
Ok.
I take B complex, ashwagandha, vit D, acidophilus, liquid iron and glucosamine.
So you need to stop vitamin B complex a week before ALL BLOOD TESTS as contains biotin
Stop iron supplements a week before testing ferritin levels
If taking iron supplements should have full iron panel test 3-4 times a year. Iron is extremely toxic in excess
Vitamin D needs testing twice year when supplementing
Only just started taking iron for approx two weeks as have had heavy bleeding so wanted to replenish as was looking pale. May take for another two weeks then that's it for me until maybe 6 months if I continue to get heavy bleeds.
Since doctors have put me on Vit D don't think they have been checked. The D3 accrete was sending my eyes yellow, did mention to Dr but didn't seem bothered. I brought my own now which is spray form and has no added calcium.
Come back with new post once you get thyroid and/or vitamin test results
Only just started taking iron for approx two weeks
Iron almost invariably needs to be supplemented for months - not weeks.
Our bodies are poor at absorbing iron and simply cannot do so fast enough to get from iron-deficiency to having sufficient iron in such a short time.
And if you continue to lose iron at the same rate that caused your iron deficiency, well, at best you can expect is (more or less) a pause in losing iron.
Also, I have never heard of vitamin D3 causing yellow eyes. More likely related to your liver not functioning well enough to clear bilirubin from your blood fast enough.
webmd.com/a-to-z-guides/cau...
Had out of range red blood vessels size?? So not carrying max oxygen. This is new, thought maybe ezertemibe may be culprit as side effects amount to being short of breathe. Only one more month and can stop taking them. Think I have good diet in place now so should be able to maintain cholesterol on my own.
Still have 24-36 hr heavy bleed every month so problem is ongoing.
Liver gets tested every three months via endocrinology and always comes back ok. I think they put yellow dye in the accrete D3, I've just changed to Vitamin D spray to see if any difference.
Not what you're looking for?
You may also like...
Hi there,
Please could someone offer me some advice with these results I am not sure if I am over...