Positive or negative ? : Did this morning. ? Thoughts? - NCT
NCT
51,862 members • 16,257 posts
Positive or negative ?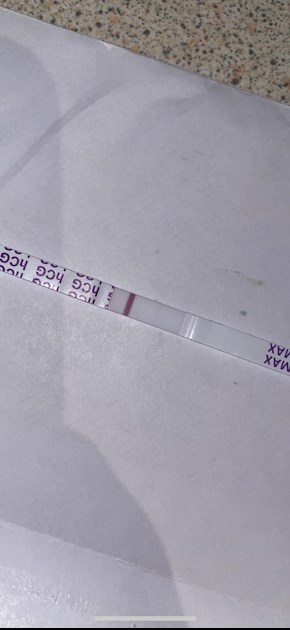 Did this morning. ? Thoughts?
Written by
Hi there, I can't see a second line I'm afraid. Early response pink dye might work better?
Seriously 😂

Maybe I'm looking in the wrong place on this test but I 'seriously' don't see a second line 🤷‍♀️!If you're confident it's positive go with your instinct x
I still don't see a clear line! Maybe see what others think…I am looking at it without my glasses 🙈 x
I think it's so important to test again in a few days and/or if you're reasonably confident you're passed a missed period, your GP may do a blood test to confirm your suspicions. Posting very, very faint lines on here on a regular basis is not going to give you the answers or reassurance you need unfortunately. Good luck! X
Hi I see a very faint line. I would test with a frers early response for an accurate result. Digital picks up a bit later so frers is better for now.
Have you had a missed period yet? I would repeat in a few days.
Go out and get a clear blue. I can see a faint line, I had similar day 2 after missing my period. Did a clear blue that evening and it said I was 2-3 weeks pregnant.
You've been posting tests on here for the past 2 months. Maybe you should just see a doctor to get a conclusive answer via a blood test. It seems taking lots of tests may be coming a bit of an obsession as you're not getting the answer you want. Good luck x
Negative. Try a digital test instead if you're struggling to interpret the pink dye ones
Not what you're looking for?
You may also like...
period which is very unusual! I took 2 tests this morning which showed positive faint lines. Around...