Egg fried rice. : Today's lunch was a simple... - Healthy Eating
Healthy Eating
54,184 members • 8,006 posts
Egg fried rice.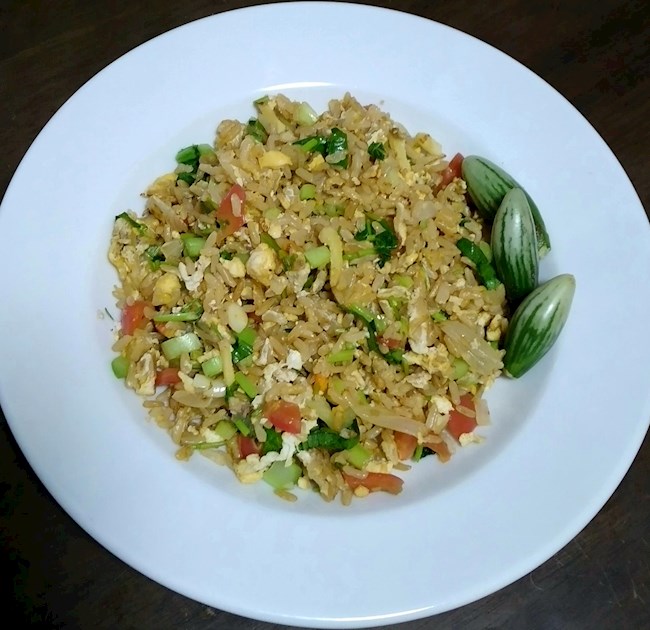 Today's lunch was a simple egg fried rice with vegetables. It was delicious 😁👍
Written by
Looks great Happyman4. There's always room in my life for some egg fried rice!
Thank you Callendersgal, it's a firm favourite in our house, and it goes with just about anything 😊
Looks delicious happyman. Do you ever make chicken fried rice? My children love chicken fried rice. We use to order chicken friends rice in a indo-Chinese restaurant we use to go to. The food was lovely there. What is that green vegetable on your plate? I'm sure my mum uses this veg in a curry she makes.
Thank you Zara, it really was delicious, chicken fried rice was yesterday..that was also very delicious. 😊I do sometimes put little fresh chilli in.. 😁
Are they the green chilli 🌶 on the side, or little cucumbers? 😋
Aubergines, sweet nice and crunchy, beautiful 😊
Thank you so much for sharing yet another new food, or new to me anyway. 😊
Your welcome HungryHufflepuff, I think it will new to a lot of people 😊
I've not seen green aubergines before. They are a purply brown colour here in the UK. Maybe they come in different colours in different countries.
Update: I've just googled green aubergines and they are available in Thailand. I'll look out for them here. Maybe they have them in Asian supermarkets. I wonder if they taste like the purple aubergines here. I would love to try them. Do you eat them raw?
They are much sweeter then the purple colour ones, they are barbecue street food in mainland China.. you can eat all aubergines raw, but we always cook them, my favourite way is with a chilli sauce.. I will cook it on day and post it..i can eat a big bowl full just on its own. 😊
Love egg fried rice. Yours looks great! Have you ever heard of Lop? Egg fried rice with peppers so hot I cry while I'm eating it. But it's so good. A local Thai restaurant used to serve it.
Thank you Isinatra, we do sometimes put chilli in fried rice, the children can eat very spicy food now..I've never heard of Lop before, ofcourse I will look it up on YouTube as it sounds interesting 😁👍
I googled the restaurant to see their menu. I haven't been there in years and it has changed it's name and menu. The dish had ground beef, peppers, scallions and egg, but I also remember that they had a container of green pepper sauce on the table that I would add. Maybe that's where all the extra heat came from.
Hi Happyman4
I like the look of your meal, it looks scrumptious!
Zest

Not what you're looking for?
You may also like...
on a packet of cauliflower rice or £1:15 on a rather small broccoli rice packet either; I purchased...