Tonight's evening meal. : Banana blossom with... - Healthy Eating
Healthy Eating
53,146 members • 9,757 posts
Tonight's evening meal.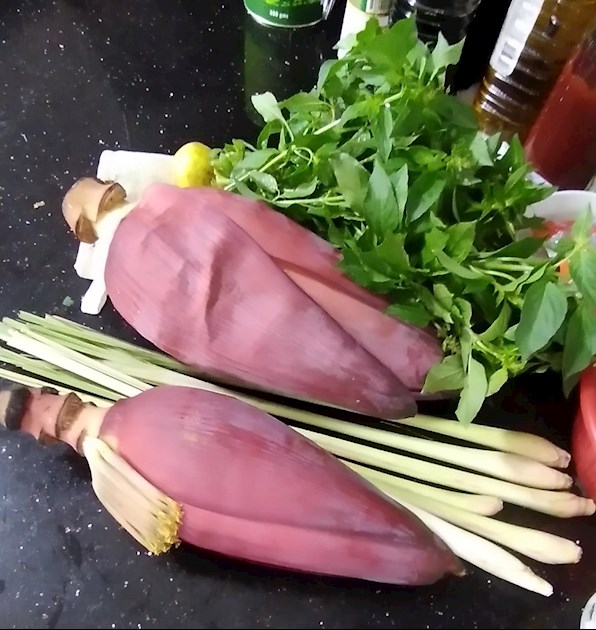 Banana blossom with bamboo shoots in the stink fruit tree leaves..be really soon.😊
Written by
Im pretty sure my canned banana blossom isn't going to look as good as yours, though the picture on the label looks similar 😁 I haven't tried making anything with my banana blossom yet but hopefully I'll have time for some proper cooking again soon.
The recipe my wife is cooking them with is named..Thai Hor Mok Curry .. you can use what like in it..some she making with fish and some with chicken..she would normally use the big leaves from the stink fruit tree to wrap the ingredients in..but tonight she putting the leaves in with other ingredients and using banana leaves from the garden to wrap everything together. They are delicious but do take a bit of time to do.
I will post them later 😊
Interesting......I just googled it as I've not heard of banana blossom. It looks like fish. What does it taste like happyman?
Hi Zara, I think vegans use them to make fish and chips..I saw that on YouTube. Though the blossom itself doesn't look like fish to me.I doesn't really have any taste, I've eaten it raw and it just made my mouth very dry..some people do like it raw and use it as part of a salad.
The first batch is now being steamed..
Some she made with chicken and some with fish.
It's a great recipe that you can eat on its own.
I will post a couple a bit later..😊
One of my favourite dishes is the Thai Hor Mok Carry, and especially if it's made the way my wife makes it..The left of the picture has fish and the right has chicken.
The ingredients were fresh bamboo shoots, fresh banana blossom and fresh tender leaves from the stink fruit tree..my wife would normally use them to wrap the curry in, but the were not big or enough this time so instead she used the banana leaves that we have plenty of in the garden..
The Hor Mok curry paste was entirely home using her families own recipe...
If I could only have one curry I could choose from all the curry's in the world, it would be this one
We make enough to eat for the next 3 days..😋
If some of you like to know what the stink fruit tree leaves look like 😊
Stinky fruit, sweet delicious leaves 🙂
What do they smell like and what would you use them in? I've never heard of them before.
They haven't any smell that noticeable, and have very mild pleasant taste. They very popular for rapping food in the same way as cabbage leaves, and you can use them as a vegetable. 🙂
Your curry looks really nice Happyman. Your plates looks beautifully prepared 💕
Thank Zara, I wish I could take the credit for making the curry, but it's one of those dishes that my wife enjoys doing so I keep out the way and enjoy the fruits of her wonderful cooking. I will be enjoying the chicken one for breakfast..I love spicy food that's packed with flavour..😊👍
It's nice when someone cooks for you. You've got to make the most of it 💕
It is very nice, I wish I had I bit more of it😁Only joking, I do get pampered quite a lot really..😇
4.30am here now, enough of jasmine tea, and time for a large espresso and some dry bread to dip into it..😁 and look at a few videos on YouTube..will probably go to the Indian spice shop later as I need a some spices they don't have in the supermarkets.🙂
Today's lunch here was butternut squash and sweet potato soup along with a tuna sandwich!
Sounds good to me Catgirl, it might sound strange to some people that I am enjoying a snack of orange and purple sweet potatoes at 3am right now with a few cups of jasmine tea. I steamed them last night, I just love them, there so tasty..😊

Dinner tonight was leftover haggis along with autumn mash which is butternut squash, sweet potatoes and parsnip which we enjoyed and have some left to reheat doe another day.
A few months back I bought some purple carrots which tasted no different to the orange ones.
That also sounds very nice indeed Catgirl.😊

Wow! That banana blossom looks really interesting. I have not tried it, does it taste like Fish? I know that vegans use it as a fish substitue.
It doesn't taste of fish but when in batter looks like it. It has a texture which mimics fish I would say. I've had it in traditional fish and chip way and a Mexican dish which I preferred. So worth getting a can and trying different recipes!
I think you replied to Kitten whiskers as I was writing to her, but took some time as I was checking up again on the nutrition value of them..there really very good.
Thank you Wbrig, I never did like fish so I think I will give this a miss as the texture is simillar
So I found a tin in the cupboard yesterday and added it to stew I made and it was very nice- as happy man says it's absorbs flavours. It's nutritional value is good too. I recently had a Baja fishless taco which was spicy and very nice but probably battered is not so healthy!
It does sound idea for a stew, I will give it a try, especially with such good nutritional values -- thank you 😊
Hi Kitten whiskers, no it doesn't taste anything like fish at all, it really doesn't have much in the way of taste, but it has a nice texture when cooked and you can add it to most anything and it will absorb that flavour..I haven't looked up how you can make it taste like fish, but I do find that interesting, you can make meat balls as well.From what I've read they a very good source for a variety of nutrients. I was very surprised by how much. Well worth reading up on them and adding them to your diet..🙂

Thats really helpful Happyman4, thank you very much. If I could turn it into a vegan meatball - I could work with that and will look up the nutritional values now
😁 Thank you

Hi Happyman4 The banana blossom looks lovely.
Zest

Hi Happyman4. I'm really enjoying reading your posts. Food still isn't giving me much enjoyment or interest at the moment but I'm vicariously enjoying your meals so please keep the posts coming 👍🌷
I hope you start getting some of your appetite back very soon. My wife is doing all the cooking until one of my health issues subsides a bit..but she a wonderful cook so if she let's me I will post one or two of hers😊
stink fruit tree leaves? never heard of that before
Not what you're looking for?
You may also like...
Hi everyone,
Tonight I really enjoyed my evening meal - it's some Salmon, with a baked potato with...