Torquay Harbour : This was the view... - British Lung Foun...
British Lung Foundation
49,114 members • 58,717 posts
Torquay Harbour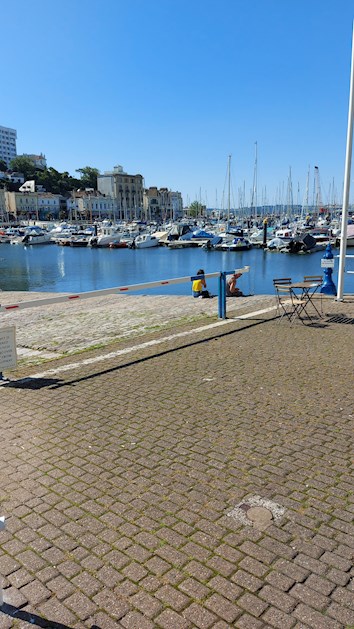 This was the view from where we sat
Looks so peaceful and relaxing
Great photo Brian. I often wonder who all the boats and yachts belong to in the UK. There are so many marinas now.
Yes love There were a few bigger ones you could live on. Sadly my 1 minute around harbour video will not load. Showing the bigger boats moored up
That's a shame but I have seen some in other marinas. I'm not a good sailor but I'd love to have a look round one.
My dad built a 28ft yacht just from the hull. He started it a bit before I was born and finished it when I was 2. We used to sail to France and the Channel Islands for all my childhood holidays.
That's a lovely memory to have Dee.
It is! My uncle…dads brother (one who recently died) was also into sailing so I have lots of good memories of sailing the Channel with al of us…we're just a little family of 8 altogether. Funnily enough at my uncles funeral we had a good old giggle about some of those days! Apparently I'd be the one, at 3 years old eating cheesy wotsits and singing songs about Noah and the Ark, in gale force winds, while everyone else was turning green and bit nervous of the seas we were in! 🤣
That sounds so lovely. Looking forward to our break in Weymouth in a few weeks.

I went to Weymouth years ago and to chesil beach and Portland bill.
Weymouth has a lot of Georgian buildings in the town and there's the sand modeller on the beach.

Did same holiday as you mention in 2010. Went to lulwortth cove, lyme regis, sandbanks too. Happy times.
I love the harbour at Torquay and the red sand on the beach!
Sandmodeller still there. Punch and Judy on the beach love the buildings.
We stayed in Kingswear, across the river from Dartmouth in 2018 & 2019, really nice part of the country, we took the ferry to Dartmouth, the steam train to Paighton and a charabang tour of Paignton and Torquay had good weather too.
we could watch the trains going over the bridge from the balcony of the flat
Sorry Bingo…didn't mean to hijack your post!
Torquay is another lovely area which I believe is where a very valued member of the forum lives. Good to see thank you Brian. Xxxx
Welcome. Hope you're both ok in this heat. It doesn't affect me at all. I cope ok with cold showers lol
Thank you all for the lovely photo's and holiday reminiscences, I feel like I'm on holiday 🏖 Jax🐶x

Hope you're well enough to enjoy one soon HighGables
Thank you for sharing your pictures, the sky is so blue. Have fond memories of Torquay especially one rainy wet day when we had no choice but to head for the shops but were made very welcome by staff. We had some laughs too.
Yes I had the rainy day in Bournemouth. But sunshine all the way in Torquay. Stayed at a company that has 12 Hotels all over the uk. 2 in Torquay now. They do coach and self drive holidays and for 4 nights half board with entertainment every night was 229. Excellent value
Sounds like a bargain to me glad you enjoyed
Yes it was. I am not sure if we are allowed to mention companies by name on here
Lovely photos Bingo88. I,m biased anyway but Torquay is so beautiful and Devon as a whole is especially stunning so glad you had a lovely holiday and the weather was kind to you.

Not what you're looking for?
You may also like...