Slight improvement today : onward and... - Lung Conditions C...
Slight improvement today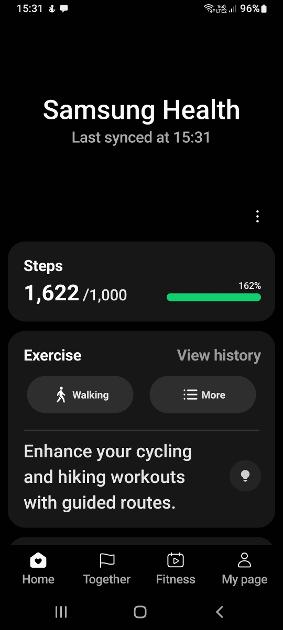 Written by
Really good Dave. Every day, in every way………..
🥰❤️👍xxxxx
trying carol xxx
You certainly are. Xx👍❤️
Hats off to you, Dave! It's so tempting to give in to breathlessness, when exercise is so uncomfortable, but we know we have to push ourselves. The physios tell me to exercise on 5 days out of 7 and the other 2 I can rest more and just "potter about", but not to sit still too long. It's surprising how many steps you can do just by pottering 😊
it is easy hannah to give in but not goung to
brilliant!!! Love it !!! Keep going
thanks for the encoragement kate x
Keep going!! A great start!! xx
thanks C x
That's great!😊 Keep going! X
thanks x
Keep going we are all cheering for you
thanks Sl
Hey, well done to you, its a hard slog but you can do it x
where theres a will as they say l1
that's a very true saying soulboy👍
Well done to you for being proactive in self care
ive seen enough ppl with copd through the years lose everything yhey hold dear through not being proactive , its very easy to do mm but if we do just 1 think a day we would rather not the benrfits are not just doung the deed aline it helps everything especially loved ones who suffer just as much as us .
so very true … I see it also in my work within the community , on all types of illness.
Although I always encourage self care and being pro active I also praise the individual on even the smallest achievement.
Taking the lead on our own care and well being brings so many benefits not just physically but mentally too!! And can also lead to reduced medications and medical interventions. And our care givers and loved ones rejoice inside themselves and gives them benefits across a wide spectrum.
Agaiin well done to you! 👍
Welldone. That's me on a good day! I'm waiting for a knee replacement and hoping I'll be able to back to dog walking.
lets hope so helen
brilliant! Your efforts are fantastic. I'm sure it feels uphill some days. Onwards and upward 🎉👏🏃‍♀️🫁
oh it is so uphill everyday RM but ive got to do it i was gettinv lazy and becoming a burden ( well in my mind) and i never want to be that x
Every little helps! Well done!
we'll done soul boy. Little by little is the way to go xx
Not what you're looking for?
You may also like...